Panasonic has announced an update for its Toughpad 4K Tablet. Its original 20-inch 4K display packing Windows tablet was first unveiled in 2013 and launched at CES in January 2014. The large but slim, and surprisingly light, Toughpad 4K had a starting price of US$5,999 depending upon configuration. The updated Panasonic Toughpad 4K will cost just half of that, US$2,999.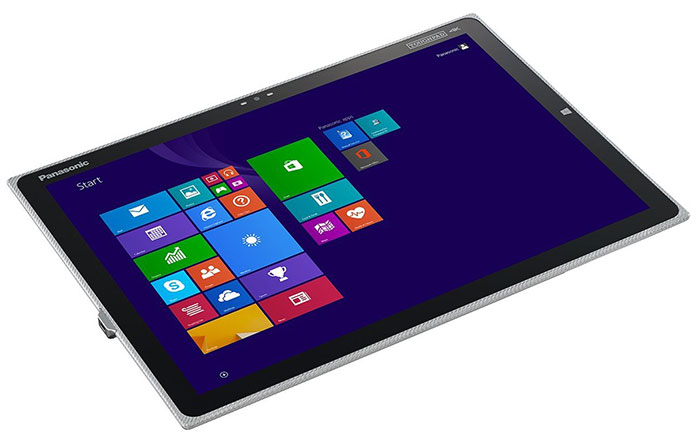 At the National Association of Broadcasters (NAB) Show yesterday Panasonic announced the updated Toughpad 4K. The key new features of the tablet include the following:
a 5th Generation Intel Core i5 vPro processor
HDMI 2.0 input
Priced from $2,999, available from July 2015
The key display specs remain the same; a 3840x2560 pixel IPS Alpha LCD display in a 15:10 aspect ratio and offering wide viewing angles. The new HDMI 2.0 port joins other connectivity options including USB 3.0, Intel Wi-Fi 802.11 a/b/g/n/ac, Bluetooth 4.0 (class 1), Ethernet and Mini DisplayPort output. We don't have any new information about RAM, storage or graphics hardware.
Thanks to the new Broadwell Core i5 processor with vPro users gain "hardware and OS-based enhanced security features, remote manageability and capabilities designed to increase end user productivity and data protection," says Panasonic. It comes with Windows 8.1 installed.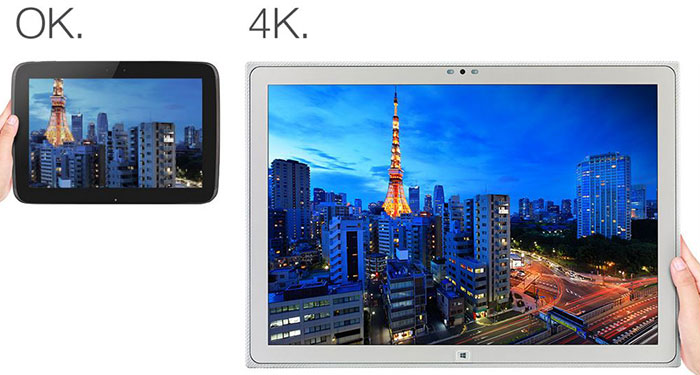 How will you use this 20-inch tablet? Panasonic provides an optional desktop cradle which allows tilt adjustment and the use of the tablet as a desktop or tilted at an angle into 'drafting mode'. A carry case is also available, as is a VESA compatible mounting adaptor plate.
Remember this is part of Panasonic's 'Tough' range. The Toughpad 4K is designed with a magnesium alloy frame enclosed in a reinforced glass fibre case, the lightweight, business-rugged tablet is built to handle a 30-inch drop to its back while operating, and 12-inch drops to 26 angles when nonoperational. It comes with a "comprehensive 3-year warranty".
Panasonic has done impressive work to improve the product and cut the price in half – that's something we don't see very often. Admittedly we don't see many $5,999 tablets either.