Microsoft has announced the Surface 3 tablet hybrid, which runs Windows 8.1. We first heard the pitter-patter of its tiny footsteps in the run up to the weekend and today it materialised as a pre-order product on the Microsoft Store. This smaller, lighter and yes – slower – Surface tablet is available to pre-order now starting from £419.99 in the UK and $499.99 in the US.

"Surface 3 brings what customers love about Surface Pro 3 to more people, delivering the premium design and productivity of Surface in a more affordable device," said Panos Panay, corporate vice president, Microsoft Surface. "We've taken everything we learned making Surface Pro 3 and poured that innovation into this newest Surface. It's beautiful, versatile, powerful and productive, and our customers are going to love what it lets them do."
The new Surface 3 is Intel powered and will come with Windows 8.1 installed and upgradeable to Windows 10. However at £220 less than the price of the entry level Surface Pro 3 what are the compromises? The quickest way to see that is through a table, and I've compiled one below from Microsoft's key specs.
Surface 3/Pro comparison table
Surface 3, from £419.99

Surface Pro 3, from £639.00

Usage

The perfect balance of performance and value for students, families, and more.

The ultimate in performance and versatility for professionals, creators, and more.

Physical

10.8" 1.37 lbs (622g)

Full HD Display

Resolution: 1,920 x 1,280

12" 1.76 lbs (798g)

Full HD Display

Resolution: 2,160 x 1,440

Kickstand

3-position Kickstand

multi-position Kickstand

OS & Software

Windows 8.1

Free upgrade to Windows 10 when available

Includes a 1-year subscription to Office 365 Personal

Windows 8.1 Pro

Free upgrade to Windows 10 when available

Battery

Up to 10 hours

Up to 9 hours

Processor

Quad-core Intel Atom x7

4th Generation Intel Core i3, i5, or i7

I/O and ports

Full-size USB 3.0

Mini DisplayPort

microSD card reader

Headset jack

Cover port

Micro USB charging port

Full-size USB 3.0

Mini DisplayPort

microSD card reader

Headset jack

Cover port
Starting by considering the bonuses with the new Surface 3; it's lighter, thinner, fanless and can last even longer away from a charger. Of course it's significantly more affordable too. The Quad-core Intel Atom x7-Z8700 processor is said by Microsoft to be both "quick and responsive but designed to maximise efficiency". The machine is just 267 x 187 x 8.7 mm in size and retains the elegant and durable magnesium design of its bigger (292.1 x 201.4 x 9.1 mm) brother. It supports Wi-Fi (802.11 a/b/g/n/ac) and Bluetooth 4.0 just like the Pro model. As far as cameras go the Surface 3 has an 8MP auto-focus rear camera and 3.5MP front facing one while the Pro has two 5MP HD cameras. Microsoft is making a Surface 3 Docking Station with monitor connector available for convenient portability and desk work.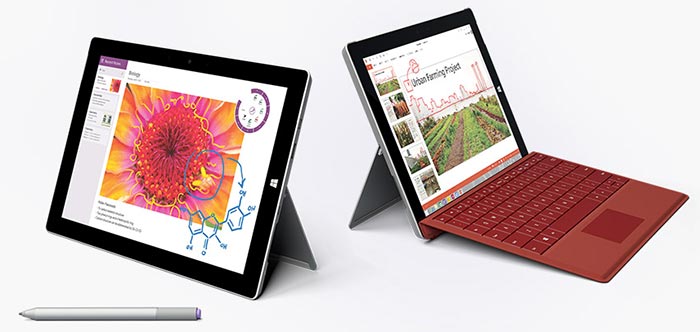 On the negative side of things the Atom x7 (with 2MB Cache, 1.6GHz with Intel Burst technology up to 2.4GHz) will be markedly slower at computation than the lowest specced Surface Pro 3 Core i3 processor. Buyers will have to fork out extra cash to get both the Surface Pen (available in silver, black, blue and red) and a Surface 3 Type Cover in a variety of colours. Microsoft's Surface 3 kickstand only has 3 tilt positions. The entry level memory and storage amounts are 2GB and 64GB respectively the high up model offers 4GB of RMA and 128GB of storage built-in.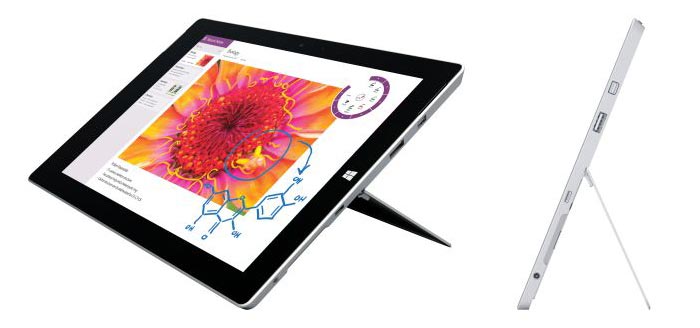 The UK store indicates that the Surface 3 64GB / 2GB RAM/ Wi-Fi (£419.99) and 128GB / 4GB RAM/ Wi-Fi (£499.99) pre-orders will ship by 7th May. Similar specced models but with the bonus of LTE connectivity will ship starting from 26th June. UK retailers including Currys PCWorld, John Lewis, Argos, Staples, Very.co.uk and Littlewoods will stock the range.
Other markets beyond the UK and USA where the Surface 3 is to be launched are; Australia, Austria, Belgium, Canada, Denmark, Finland, France, Germany, Hong Kong, Ireland, Italy, Korea, Luxembourg, Malaysia, the Netherlands, New Zealand, Norway, Portugal, Singapore, Spain, Sweden, Switzerland, Taiwan and Thailand.