Panasonic has revealed a couple of new ruggedized devices at the MWC. The Toughpad FZ-X1 and FZ-E1 are 5-inch devices that run Android and Windows Embedded 8 respectively. These devices also can make calls, however Panasonic describes these as small tablets rather than smartphones in a kind of reverse phablet marketing idea aimed at the corporate market, as is usual for these Toughdevices. Note that Panasonic withdrew from the consumer smartphone market in September last year.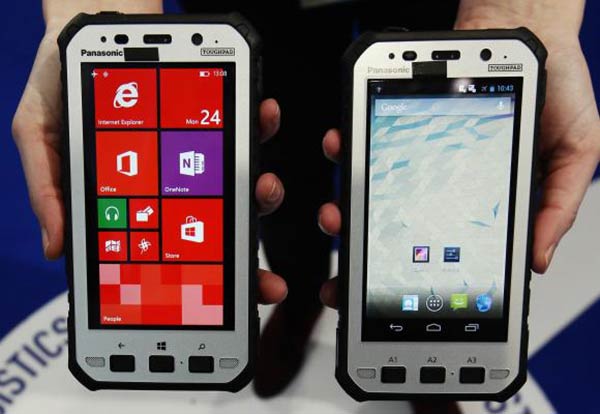 The Android and Windows Embedded 8 devices will share the same hardware base, as far as we can tell. The core specs include a Qualcomm quad-core CPU and a 5-inch 1280 x 720 touch screen as well as all the 'tough' stuff. Looking from the front these devices look pretty much like smartphones however if you get to see the side profile their chunkiness would put a Yorkie Bar to shame (31mm). Also there's a lot of weight here, tipping the scales at 430g – that's heavier than most 8-inch tablets.

Toughpad FZ-X1 and FZ-E1 specifications:
Display: 5-inch 1,280 x 720 high brightness LCD
Processor: Qualcomm high-performance quad-core CPU
Connectivity: 802.11a/b/g/n/ac Wi-Fi, Bluetooth 4.0, HSPA+, WCDMA, 3G and LTE radios
Cameras: 8MP rear and 1.3MP front
Battery: 6,200mAh with rapid charge functionality
Dimensions: 165 x 87 x 31mm, 430g
Tough stuff: Dropping and impact performance: MIL-STD-810G, Dust-proof and waterproof performance: IP65/IP68, Built-in heater for low temperature endurance, as low as -20℃.
OS: Windows Embedded 8 Handheld (FZ-E1) / Android 4.2.2 (FZ-X1)
The touch screen is said to be usable whilst wearing gloves thanks to the use of a high sensitivity proximity detection touch panel. Also Panasonic leverages its own rain ignoring technology so these Toughpads can functional well in British weather.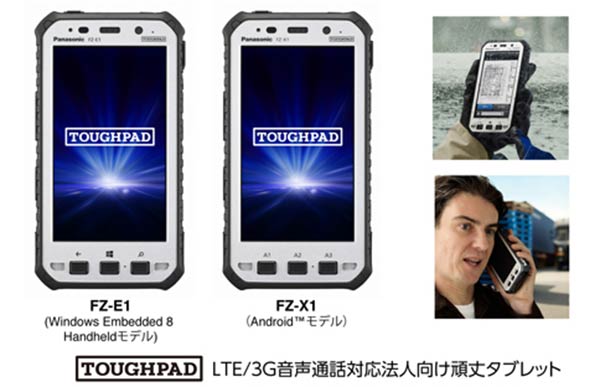 These new 5-inch Toughpads will be released separately; the Android FZ-X1 will be released in late August and be preceded by the Windows based FZ-E1, available from mid-June. They will become available in Japan first and then roll out in Europe and the USA. As for pricing it is reported that buyers will have to cough-up $1,300 for either of these chunky handhelds.