Several new products which will be showcasing at the 2014 CES tradeshow were announced by Acer on Friday, including three new Iconia tablets and the Liquid Z5 smartphone.
Acer Iconia W4 Windows tablet
The Iconia W4 is one of the main new products for Acer this year. The 8.1 inch tablet is powered by a fourth gen Intel Atom processor and runs Windows 8.1. Targeting consumers who are looking for an easy-to-carry machine convenient for all the multitasking one does, it boasts a 10 hour battery life, impressive when taking InstantGo into consideration, a feature which keeps apps up to date automatically even if the device is locked.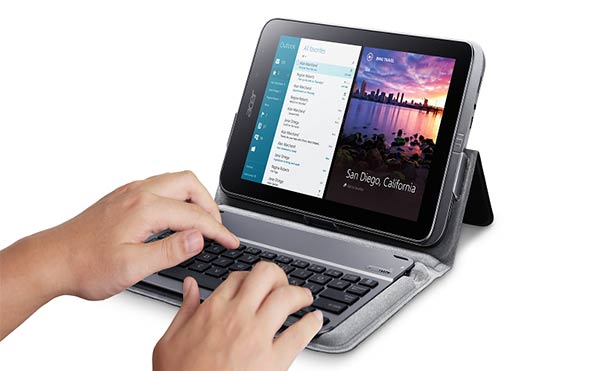 The W4 will be preloaded with Microsoft Office Home and Student 2013 and an optional portable keyboard is available for those who prefer to type on a physical keayboard. It comes with 16GB or 32GB of internal storage, depending on configuration, which is both expandable via the in-built microSD card slot.
We glimpsed this update of the Acer Iconia W3 at an Intel event in September last year. The main problem users have suffered with the previous version, the Iconia W3, was the reportedly poor display with narrow viewing angles. This has been corrected in the W4 model as the tablet is fitted with an IPS variant with a 1280x800 pixel-resolution panel providing a 170 degree viewing angle. Furthermore, to reduce reflection and boost readability under sunlight, Zero Air Gap technology has been implemented to remove the air between the touch panel and LCD module.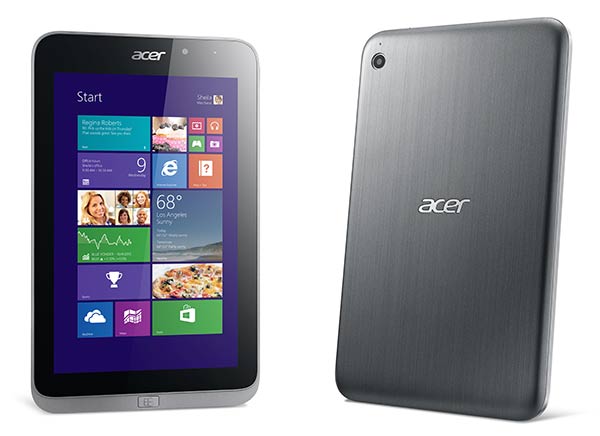 The Iconia W4 is the most expensive new tablet being introduced by Acer, it will be available from the end of January at prices starting at €299.
Acer's new Android tablets
Acer's refreshed 7.9-inch Iconia A1-830 and 7-inch B1-720/1 are also amongst the new tablets unveiled ahead of the CES 2014, as the company jumps into the budget Android tablet segment.
The A1-830 is an updated version of the A1-810 released in mid-2013. The tablet has been improved to come with an aluminium metal finish, measuring at 8.15mm thick and weighs just 381g. It runs on Android 4.2.1 Jelly Bean and the tablet is powered by an Atom Z2560 Clover Trail processor with 16GB built-in storage, 1GB of RAM, 1024x768 resolution IPS display and claims to have 7.5 hours of battery life.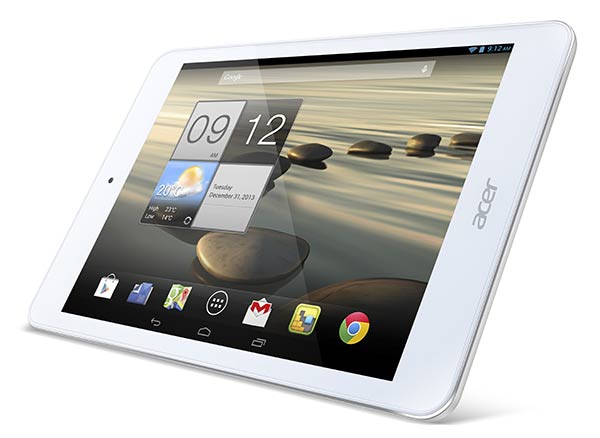 The smaller B1-720/1 packs a 1.3GHz dual-core processor from MediaTek, 1GB of RAM (boosted from half a GB in the previous model) but offers a relatively short five hours of battery life.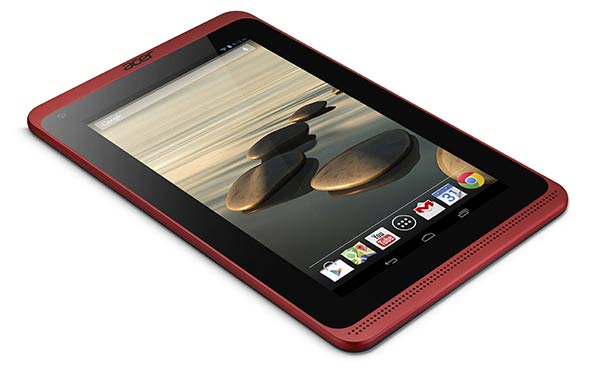 Although the specs of the Acer's new Iconia tablets probably won't impress the Android faithful, Acer must hope that the low pricing will help capture the attention of the general public. The A1-830 will be available from the end of February starting at €169, the B1-720 (WiFi w/16GB) available from mid January starting at €129 and finally, the B1-721 (3G w/16GB) version available at the end of this money starting at €179.
Acer's new Android smartphone
Finally, a reasonably priced smartphone, the Acer Liquid Z5, has been launched. Designed for budget conscious consumers, the Liquid Z5 smartphone is powered by Android 4.2.2 Jelly Bean, packs a 1.3GHz dual-core MediaTek processor, and comes with 512MB of RAM, 4GB of internal storage and a 5-inch 854x480 pixel display.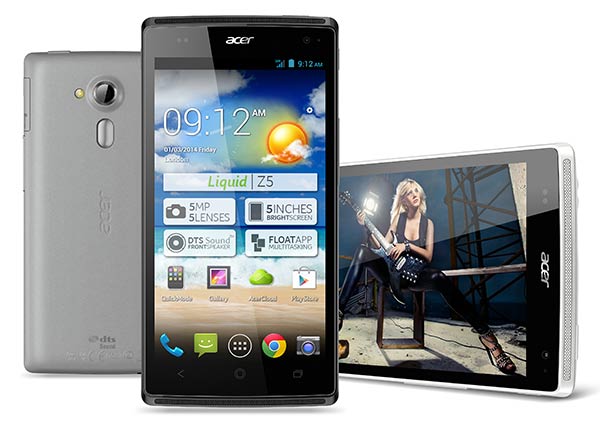 The camera unit sounds comparatively interesting for a budget offering: "The 5 megapixels camera is a bucket of innovations: it supports BSI technology that enables more light on sensor than traditional FSI, thus delivering better low-light sensitivity; it comes with a 5 elements f2.4 lens, instead of traditional 4 elements, to make pictures even sharper; the 1.4umx1.4um pixel size offers a better quality and less graining while in low light environments. Lastly, the IR filter reflects infrared delivering of more realistic photos and the HDR solution creates high dynamic rage images combining a higher contrast and more vivid details in one single shot," says Acer's press release.
The new Z5 smartphone will retail for around €170 Euros (£140) when it launches later this month. However we can't help but feel a little disappointed when comparing the Z5 to competitor Android smartphones such as the Moto G, as the latter offers better spec in most departments and is available for less cash in the UK.