It looks like Acer is readying to launch the first in a wave of smaller Windows 8 tablets. French portable tech site Minimachines.net posted a large selection of images of a device purported to be an 8-inch Acer Iconia W3 yesterday evening. Unfortunately the site was asked to remove all the images and has complied with Acer's wishes, but not before several newshounds had grabbed the info and images.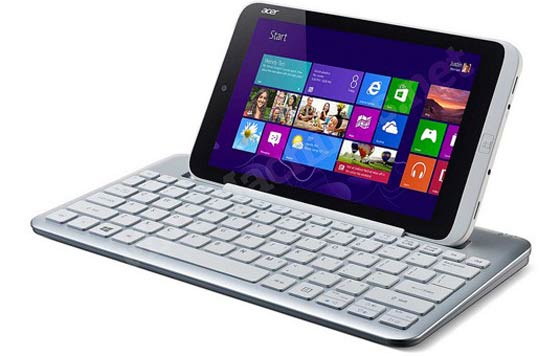 According to c-net, who managed to see the French site's content before it was taken down, the Acer Iconia W3 will feature the full Windows 8 and not Windows RT. It is "expected" to be powered by a 1.8GHz Intel Clover Trail Atom Z2760 dual-core processor paired with 2GB of RAM. The screen is supposed to be an IPS panel with a resolution of 1280x800 pixels. A front and rear camera is installed in the device. From the pictures you can see some other aspects of the design and also accessories such as a keyboard dock and a cover which folds into a kickstand.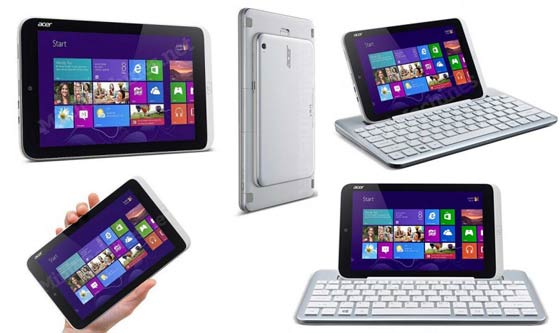 Looking at timescales the original post on the French tech site said that the Acer Iconia W3 would be made available in time for the next school year. That would point towards an August or earlier launch. Also unfortunately we don't have any pricing information. Last week we heard the current Intel CEO speak about new Windows 8 devices being made available for US$200 or so. However he was talking about the next generation quad-core Bay Trail based tablets and devices whereas this Acer Iconia W3 is reported to be a Clover Trail design.
We have seen several news sources that point towards the introduction of a range of smaller Windows 8 tablets. In late March there was a change in Microsoft's logo certification guidelines to allow smaller screens and earlier this month we heard from sources speaking to the WSJ that a 7-inch screened Surface mini was in development.
Are any readers interested in this 8-inch Acer Iconia W3 or similar devices?