We first saw the ASUS Fonepad back in late February being shown off on stage at the ASUS MWC 2013 press conference. It sounded like an interesting dual-purpose device being offered to us by ASUS, makers of the Nexus 7. A device of similar proportions to a Nexus 7 but with a curious combination of advantages and disadvantages compared to that tablet. On the plus side the price is competitive, it has a microSD card expansion slot and of course it has telephony functions – it's a FONEpad. Also, interestingly, it will be powered by an Intel Atom Z2420 Lexington 1.2GHz paired with an Imagination PowerVR SGX540 graphics chip.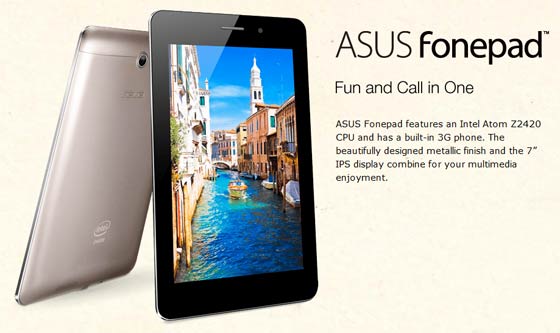 At MWC the Fonepad was said to be coming to the UK in late Q2 2013 and that time is nearly upon us. Carphone Warehouse, Amazon and Sainsbury's will all be accepting pre-orders for the new device from this Friday, 12th April. Stock is due to arrive on Friday 26th April. It's hard to say whether pre-ordering is something you will need to do, in order to get one of these devices on the day. Is the ASUS Fonepad going to sell like the proverbial hot cakes?
Let's have another look at the specs of the ASUS Fonepad:
Processor: Intel Atom Z2420 Lexington 1.2GHz
Graphics: Imagination PowerVR SGX540
Screen: 7-inch 1280x800 IPS touch screen
RAM: 1GB
Storage: 16GB (8GB in APAC regions), microSD slot, 5GB lifetime ASUS WebStorage
Communications: telephony, 3G, Wi-Fi, Bluetooth and GPS
Imaging: 3-megapixel rear camera*, 1.2-megapixel front facing camera
Power: 4,270mAh battery – ASUS says average battery life is 9 hours
Construction: Grey or gold "metallic design", 196.6 х 120.1 х 10.4mm, 340g
Software: Android 4.1 Jelly Bean OS, Google Play compatible
Priced at £179 inc VAT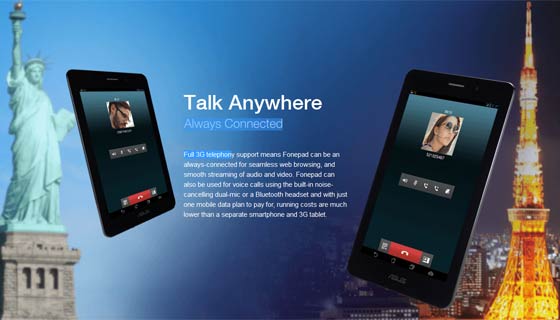 *The ASUS Fonepad spec on the official website details two versions of the Fonepad; one is a 16GB device without a 3MP rear camera whereas the APAC (Asia Pacific) version has 8GB of built in storage and is equipped with the additional 3MP rear camera. Jonney Shih informed the crowd at MWC that the higher capacity storage version with no rear camera was aimed at the European market. (If I were interested in buying a Fonepad I'd prefer the APAC version as it's cheap to boost the storage capacity with a microSD card.)
ASUS informed TechRadar that Android 4.2 would be available as an update for the Fonepad "as quickly as possible".