I wrote about the Acer Iconia B1 entry-level tablet on Christmas Eve. The WSJ had tipped us off that this new, as-yet-unannounced, 7-inch Android tablet would be aimed at the magical sub US$100 price point. That's £62 in real money. However according to a number of sources including Android Central and Engadget, the new budget Acer B1 tablet is going to launch at £99 or US$150.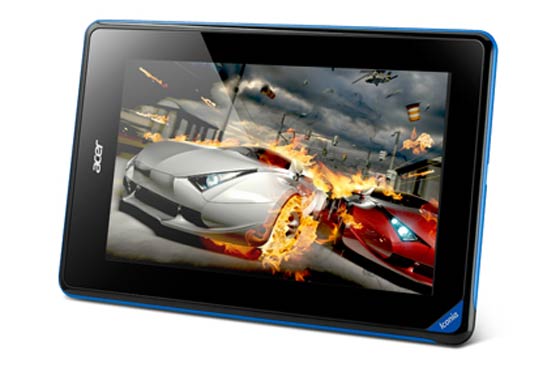 Let's quickly remind ourselves of the spec and what you will be purchasing here (I've updated the table with the latest info);
| | |
| --- | --- |
| Name | |
| Price | $99 <- no it's $150 or £99 |
| Screen size | 7-inches diagonal (in-plane switching TFT) |
| Screen resolution | 1024x600 (170ppi) |
| Storage | 8GB internal + microSD slot |
| Processing | MediaTek 1.2GHz dual-core processor, complemented by 512MB DDR3 of RAM |
| Connectivity | Wi-Fi, Cellular, Bluetooth 4 |
| Operating System | Android Jelly Bean 4.1 |
The Acer Iconia B1 is set to become available at the end of this month and Android Central has been given a price of £99 for UK folk. Hopefully that includes the 20 per cent VAT. Savvy UK shoppers will be able to get these cheaper using discounts, vouchers and cash-back shortly after its launch.
Hands-on video courtesy of Android Central
The Acer rep in the video describes it as a "tablet for first time buyers" and to get to this price point the company does seem to have used a cheaper kind of TFT. PC-Pro describes it is a "twisted nematic (TN), rather than the higher quality In-Plane Switching, TFT" but in the video the viewing angles look OK. Also looking at the CPU/RAM combination it's not as powerful as some no-name Chi-Tabs at around this price point. The Android Central guys said they "noticed some lag and stuttering during our time with a CES demo unit."
I remember the WSJ referring to this Acer Iconia B1 as being aimed at "emerging markets". Engadget states in its report that the B1 won't be sold in the US but most sources confirm it for UK release at the end of this month.