If ever you had wondered just how popular the iPad Mini was amongst cost-concious punters, perhaps the following factoid from Amazon will help to clear matters; following the announcement of the iPad Mini, Amazon's Kindle Fire HD saw its "biggest day of sales since launch."
Picking-up on this rare chance, Amazon has now gone in for the kill and has launched a new advertisement campaign directly comparing the Kindle Fire HD to Apple's iPad Mini, focusing on the lacklustre hardware of the Apple competitor, despite its price premium.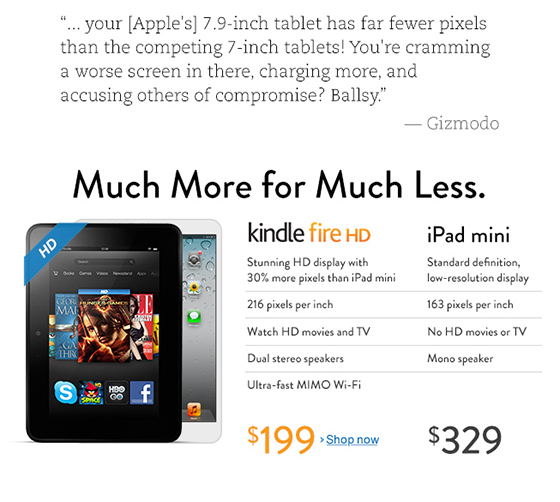 Gizmodo is spot-on, Apple's charging an excessive price and offering little back in return, granted, a sleek case, though not much else. Having said this, perhaps Amazon is the one being "Ballsy" with such a direct shot at its fellow American giant. It'll be interesting to see if this new approach pays off.
We're also quite curious to see what effect the now cancelled Google press conference will have on Kindle sales, as new Nexus devices are left waiting for their moment in the spotlight.