Last week Amazon announced a new range of Kindle and Kindle Fire devices. The new Kindle Fire range has built in adverts that help subsidise the cost of the new devices through promoting new Amazon content sales. Shortly after Thursday's unveiling event it was understood that these adverts could not be opted out of, leading to much criticism of the company in online forums. Over the weekend it seems like Amazon has relented and users will be able to stem the advert flow for US$15.
The ads were referred to as "special offers" by Amazon. These special offers will appear on the tablet lock screen and also in the corner of your home screen. Amazon says that the adverts will be enjoyable; "These special money-saving offers that customers will enjoy could include offers on Kindle accessories or on our digital catalogue of Kindle books, apps, games and MP3, plus many more." However now the company has decided, as it had done with earlier Kindle Fire tablets in the US, to offer an opt out, at a price "With Kindle Fire and Kindle Fire HD there will be a special offers opt-out option for $15. We know from our Kindle reader line that customers love our special offers and very few people choose to opt out. We're happy to offer customers the choice".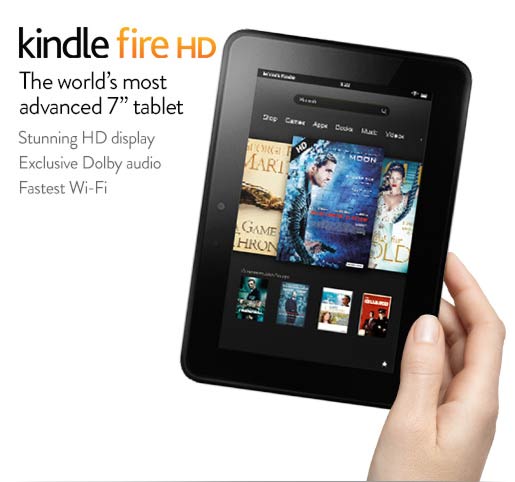 Kindle Fire HD 7-inch or Nexus 7?
In the UK the Kindle Fire, sporting a 1.2GHz processor and 1GB of RAM will cost £129. The newer Kindle Fire HD 7-inch version is also coming to the UK and will be available with 16GB of storage for £159 and with 32GB of storage for £199. While the pricing of the Kindle Fire HD mirrors the Google Nexus 7 device, Amazon offers double the on-board storage at both price points.
Looking at the processors in these two 7-inch devices the OMAP 4460 in the Kindle Fire HD will probably offer "significantly slower" performance compared to the NVIDIA Tegra 3 in the Nexus 7 according to Fudzilla.