Amazon has refreshed the top of the line Kindle Oasis eBook reader with a number of pleasing updates. Key changes include a bigger screen, an increase in the number of built-in LED lights (for even illumination), and colour temperature (auto/timed) adjustments.
This is the 10th gen Kindle Oasis and its new features continue to set it apart from its underlings, the Paperwhite, and the regular Kindle. With the significant pricing differences it is important that Amazon makes the Kindle Oasis stand out - even the cheapest model (lowest amount of built-in storage) is nearly double the price of the best-selling Paperwhite, or triple the price of the base model.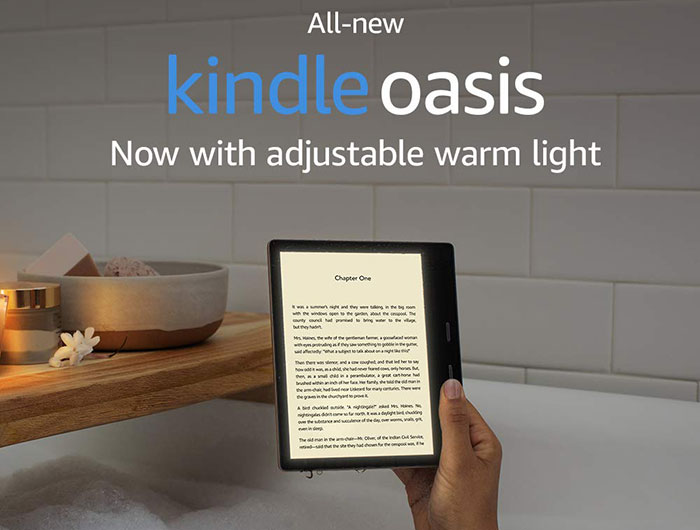 Key features of the new Kindle Oasis are as follows:
Our best 7-inch, 300ppi flush-front Paperwhite display.
Adjustable warm light to shift screen shade from white to amber.
Waterproof (IPX8) so you can read in the bath or by the pool.
Thin and light ergonomic design with page turn buttons.
Reads like real paper with the latest e-ink technology for fast page turns.
Instant access to millions of books, newspapers, and audiobooks.
Works with Audible - pair with Bluetooth headphones or speakers to switch seamlessly between reading and listening.
Six months Kindle Unlimited for free (auto renews at $9.99pcm).
On the headline feature of the colour temperature adjustments, Amazon says that you can adjust the screen shade from white to warm amber. Amazon's eBook reader device can adjust this automatically thanks to an ambient light sensor, and it can be scheduled to warm-up and cool-down at different times of day. Light coverage is more even on your screen and more adjustable thanks to Amazon doubling the amount of screen lighting LEDs (25, up from 12).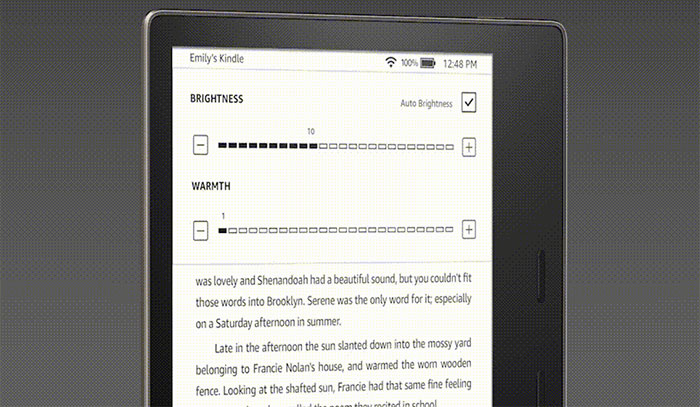 Like the 9th gen Kindle Oasis the new version features physical page-turn buttons. However, it says the new screen uses the "next generation of e-Ink technology for fast page turns". Some changes that would have been welcome but didn't materialise were a move to USB-C and faster Wi-Fi - it still uses micro USB 2.0 and 802.11b/g/n Wi-Fi as per earlier versions.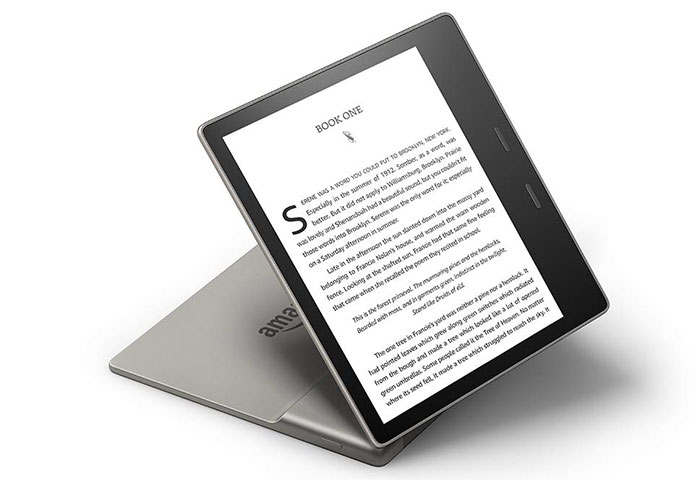 An Amazon USA link to the 'All-new Kindle Oasis - Now with adjustable warm light' is here, but I don't have a UK store link at the time of writing. If you head on over to the US store you will find that for your US$249 you will get an 8GB model with 'special offers' piped to your devices home screen (pay $20 more to dump this feature). A 32GB version without special offers costs US$299. Pre-orders for the 10th gen Oasis Kindle will be fulfilled from 24th July onwards.