Much like the firm's e-reader announcements, Amazon unveiled three new Kindle Fire tablets last night and, we'll begin with the coolest of them all, the Kindle Fire HD 8.9in 4G LTE.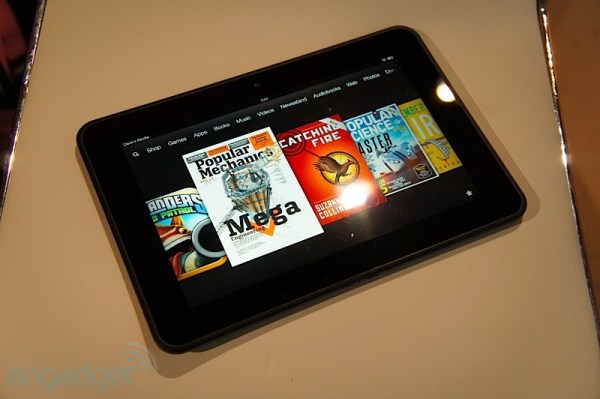 Image credit Engadget
This device features a rather unexpected FullHD+ IPS display, with a resolution of 1,920 x 1,200, offering up a PPI of 254, almost matching the density of Apple's iPad 3 retina display. What's more, Amazon has slapped-on an advanced polarising filter and anti-glare coating, helping the display maintain clarity under bright light from all angles; this is supported by the removal of the air-gap between the capacitive touch layer and the LCD panel, the much discussed in-cell touch technology. Combine all these things and you can expect one heck of a display, we've attempted to use a press-event image above to show just how well the display appears to cope with direct light.
Technical specs have improved as well, the CPU is a TI OMAP4470, a dual-core ARM Cortex-A9 CPU clocked at, 1.8GHz, with a PowerVR SGX544 graphics core, which, is actually a little newer than the core found in the iPad 3, with support for DirectX 9 Feature Level 3, however, there are less compute cores so don't expect quite the gaming prowess of the Apple alternative.
RAM has been bolstered to 1GB and storage is available in 32 or 64GB options. There is a HD front-facing camera for video chat and, perhaps to make-up for the removal of audio in the Kindle e-reader line-up, Kindle Fire HD models will feature Dolby Digital Plus, with dual-driver stereo speakers. WiFi support has also been enhanced, with the tablet range the first to integrate dual-band MiMo, which Amazon claims reaches realistic speeds and ranges beyond that of the iPad 3 and, with less dead-spots.
Whilst the tablet does not feature an SD expansion slot, it is quite peripheral friendly, with Micro-USB and Micro-HDMI connectors, along with Bluetooth support. The 4G LTE variant, rather naturally, features support for 4G internet, with Amazon offering highly competitive data packages, in the US at least. There is also a WiFi-only option.
Most upsetting, both the 4G LTE and WiFi Kindle Fire HD 8.9in tablets will not be heading to the UK just yet. In the US they are available in 32 and 64GB options, in WiFi or 4G LTE at $299, $369, $499 and $599 respectively.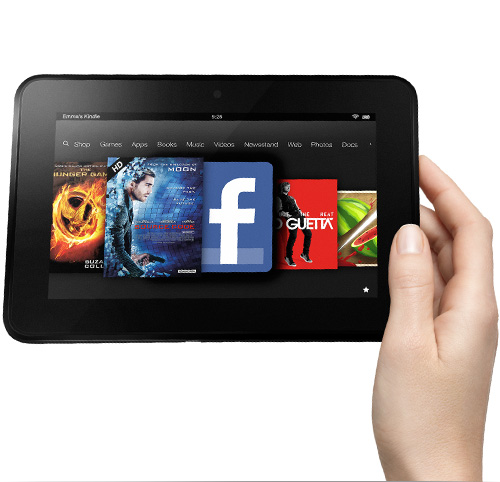 Last but not least and, with this one heading to the UK, is the Kindle Fire HD 7in. This device features many of the enhancements of its larger siblings, Dolby Audio, Mimo WiFi, in-cell touch and anti-glare filters, a HD front-facing camera, USB and HDMI. However, other features are a little watered-down. The CPU is a slightly slower TI OMAP4460 and the display is a more familiar 1,280 x 800.
There is clear competition between the Kindle Fire HD 7in and the Nexus 7. Many features are tit for tat, the Nexus 7 features NFC and a quad-core CPU, the Fire HD 7in features more memory bandwidth and a HDMI output. Where Amazon really has the edge, however, is price. The tablet will be available in 16 and 32GB variants at £159 and £199 respectively, offering more storage at each of the Nexus 7's price-points, however, as with the entire Kindle Fire HD range, these at-cost prices are ad-supported.
On a final note, it has been confirmed that the Kindle Fire HD range is powered by Android 4.0, though, as-per-usual, Amazon has heavily customised the software, offering huge content libraries and advanced content features, such as IMDB integration. Sure enough, as we suspected, clearing stock, the original Kindle Fire is now for sale in the UK, though at an appealing price-point of £129.