Surface Windows RT $599, Surface Windows 8 Pro $799.
Sources in Taiwan have revealed that Taipei based Pegatron Technology has been hired to manufacture the new Surface tablet computers for Microsoft. According to DigiTimes the 10.6 inch tablets would be priced at a figure over $599 and $799 for the RT and Windows 8 Pro versions respectively. "The sources also estimated the end-market price of the Windows 8 Pro-based Surface tablet PC with Ivy Bridge processor to be at least above US$799, while the Windows RT-based model, featuring Nvidia's Tegra 3, will be priced above US$599."
Earlier Microsoft had only hinted at the pricing levels; that at launch time the Pro tablet would be priced in line with comparable Ultrabooks and the ARM version in line with comparable tablets. Of course the market is dynamic and these levels can change depending upon competition and component prices.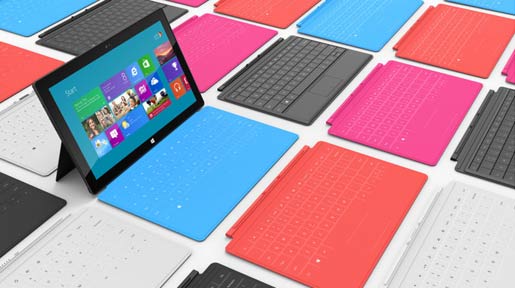 Wi-Fi only?
The Surface tablet pricing is a very important part of the marketing mix for Microsoft as it enters this hardware market in the coming months. The company will have learned a lot during the Xbox and Xbox 360 generation "console wars" so these price indications from a manufacturer would be comparatively rough estimates based simply upon a cost plus margin calculation. Another detail about the Surface has, erm, surfaced with Bloomberg quoting some sources that the Surface will eschew a cellular data connection in these first models in order to keep prices down. The Surface spec sheet from Microsoft is here.
Acer says Microsoft will quit making tablets soon.
An article on Fox News quoted the chairman of Acer as saying Microsoft will quit making tablets "once the purpose is realised". This is drawing a parallel to the way Google pioneers devices and lets the hardware partners take over from there. However PC Mag thinks that is merely wishful thinking from traditional hardware partners who were completely in the dark, as the Surface tablet was designed in an underground bunker! The online magazine says that none of the hardware partners had the imagination or vision to come up with any hardware to fully utilise Windows 8 so Microsoft had to step in and DIY. As for quitting the hardware market, PC Mag say "This is baloney… Does anyone seriously think that if Surface sales skyrocketed and brought in billions of dollars that Microsoft would give the product to Acer or Dell?" Good points I think, and you also have to consider all the new bricks and mortar Microsoft Stores opening up, aren't Microsoft's own shiny new hardware products great to fill the shelves therein, just like in Apple Stores?