The video starts with an introduction featuring Microsoft history in software and hardware. The times for the parts of the video quoted are on the left, so you can skip though the video if you wish.
Steve Ballmer
09.52 The Surface part of the presentation starts, with your host Steve Ballmer. Mr Ballmer says that unlike other tablets the Microsoft Surface is also for content creators. He says that the Microsoft Surface will enable users to create and consume, work and play, on the couch, at the desk and on the go.
Playing on the name of the new machine he continues and describes Surface as "A tool to surface your passion to surface your ideas, to surface your creativity and to surface your enjoyment."
Steven Sinofsky
14.25 you can see the Netflix application for Windows 8, looking good on widescreen, streaming video and making good use of the dual Wi-Fi antennae.
16.40 the multi-touch "cover" with magnetic edge gets the audience cheering. Typing on the cover is "twice as efficient as typing on glass".
Michael Angiulo
20.38 starts the presentation of Surface for Windows 8 Pro which uses Intel inside.
This is a great choice for content creators. With a full HD display. "Specs rival the finest Ultrabooks", powered by Ivy Bridge i5 processor and GPU. Perimeter venting allows cooling of the Intel chipset.
24.00 shows "digital ink".
Panos Panay
29.00 talks about design.
35.30 the Vapor Mg case is discussed.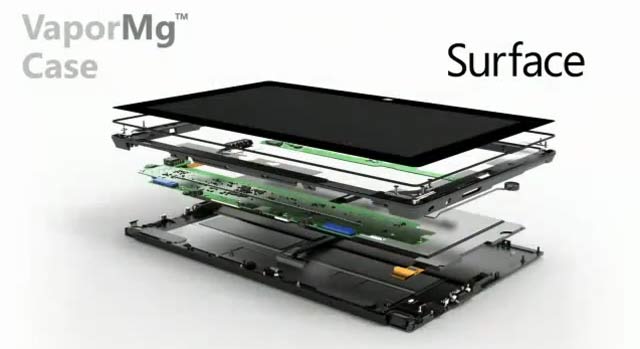 Steve Ballmer
44.35 brings the Keynote to an end with his conclusion; "Because of Windows 8 the Surface is a PC, the Surface is a tablet and the Surface is something new that people will absolutely love."
We covered the announcement of the Microsoft Surface here at HEXUS earlier today. You can read through that story to find out more about the tech spec and the differences between the Surface for Windows RT and the Surface for Windows 8 Pro.