An all-round package
The rear-facing camera on the original Transformer is terrible!
Well, like the highly-rated camera found in Apple's new iPhone 4S, ASUS is to introduce an 8MP rear-facing camera with continuous LED flash for HD video recording. Shutter-speed and auto-focus have been enhanced and a large, F2.4 aperture lens has been put to work for a superior depth of field and, combined with a back-illuminated CMOS sensor, excellent low-light performance. ASUS also claims colour accuracy improvements of 30 per cent, too. Incidentally, a front 1.2MP camera is still present.
I'm having to re-encode all my videos to view them on the Transformer, this Tegra 2 doesn't support high-profile H.264
The Transformer Prime is powered by the new Tegra 3 processor. Aside from the hardware acceleration now having support for high-profile H.264 at 40Mbps, VC1-AP and DivX 5/6, there are twice the number of cores, now with a NEON vector unit on each core, which was previously absent from the Tegra 2. We expect this processor will now handle even non-accelerated video formats much, much more graciously than the Tegra 2.
Concerns nullified?
Well, that just about sums up all of this writer's concerns and insecurities as an original Transformer owner. Hopefully it has become apparent just how diligently ASUS has worked on resolving the concerns of customers and tackling limitations of the previous hardware, with almost every single design hole seemingly plugged. We have not yet had a chance to handle these devices ourselves, however; we are relying on ASUS until we are able to evaluate our very own Transformer Prime. Here's some of the remaining specifications.
Battery and ports
ASUS claims the battery life will be 12 hours or 18 hours with the keyboard attachment, a significant increase on the quoted times for the original Transformer of 9.5 and 16 hours, respectively, though we suspect this is much reliant on the improved power-scaling of the Tegra 3 and expect this value to fluctuate significantly depending on the kind of task performed.
ASUS also confirmed improvements had been made to standby and docking power consumption, with more figures to arrive shortly. The battery itself remains the same at 24Whr on the tablet, but the slimmer keyboard dock's battery has shrunk from this figure to 22Wh. Important to note is that the dock has also lost one of its USB 2.0 ports and the mini-HDMI of the original tablet has been substituted with a micro-HDMI; all other connections remain the same on both the tablet and the dock, though positions have shifted somewhat. Existing USB extensions and card readers from the TF101 remain compatible.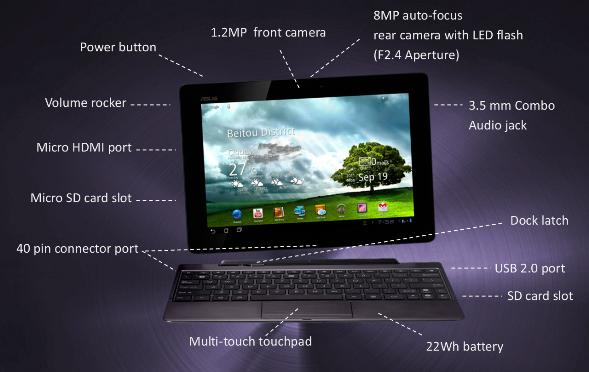 Sound
Six per cent larger speakers (17x12mm) with enhanced fidelity and range, with specific focus on vocal enhancement. Whilst the specifications do list stereo speakers, oddly we are only able to spot a grille on the back for one; we wonder how this will affect stereo imaging.
Wireless
Wireless capabilities of the Prime remain unchanged, with Wireless 802.11 b/g/n and Bluetooth 2.1 + EDR as standard. There are no current plans for a 3G model, sadly, with ASUS wishing to feel out the market before making any commitments.
Memory
RAM remains unchanged, 1GB LP-DDR2. The differences come in persistent storage, with the launch model providing 32GB EMMC storage, with a 64GB model to follow. The original Transformer offered 16GB and 32GB options, by the way.
Software
Remaining much the same as the software found on the latest firmwares of the original Transformer, the Prime comes bundled with ASUS cloud, remote desktop and media-streaming apps, along with very handy and comprehensive SuperNote and Polaris Office productivity applications.
Price
The Transformer Prime 32GB model is priced at $499 and the 64GB model at $599. For those of us over in the UK, who struggle to make the conversion, as a comparison, the original Transformer is currently priced at $399 for 16GB and $449 for 32GB. Expect to pay £399 and £475 for the two models, then.
A significant rise in the price, especially for those who want high-end features but do not wish to pay a premium for a few gigabytes of extra flash memory. The keyboard dock remains the same price, at $149. It truly seems that ASUS intends to enter the market of the iPad with this new device, mimicking even Apple's pricing structure, whilst offering more storage at an equivalent cost, giving the Prime that much-hope-for competitive edge. ASUS has confirmed it will continue to offer the original Transformer to the low-end market.
Summary
If there were to be a so-called iPad killer, this would be the one, guys. We can't wait to place our hands on one.