New tricks
As the NDA fog lifts, so too do the much-anticipated specifications ASUS' Transformer Prime Android tablet. HEXUS was on a conference call with ASUS prior to the device's official unveiling.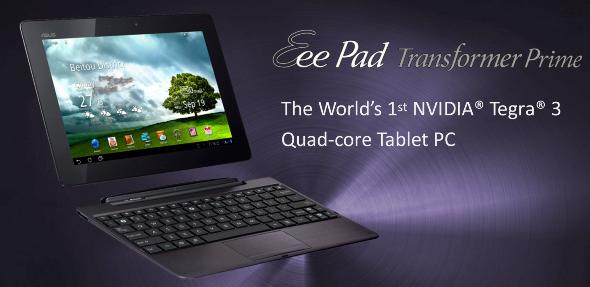 The Transformer Prime is to be the first NVIDIA Tegra 3 quad-core - well, quint-core - tablet on the market, offering up to five times the performance of its Tegra 2 predecessor. It will also be the thinnest tablet on the market, without its keyboard dock of course, at a thickness of 8.3mm, according to ASUS. Further, it'll also be the lightest tablet of its class weighing in at 586g. If we compare with the Apple iPad 2 and the Samsung Galaxy Tab 10.1, which makes implicit sense, the thicknesses and weights are 8.8mm and 8.6mm and 601g and 595g, respectively. In comparison to the original Transformer, the device has lost a significant 94g of weight and 4.68mm from its waistline.
Pad: 263mm x 180.8mm x 8.3mm / 586g
Mobile Dock: 263mm x 180.8mm x 8 to 10.4mm / 537g

ASUS has done a good job with this new release. In fact it's hard to appreciate just how subtly every aspect appears to have been fine-tuned; and so this writer, as an owner of the original Transformer, thought it may perhaps be most appropriate to list the issues he experienced with the original Transformer and to see if ASUS has come up with an appropriate solution.
High-quality IPS screen, but fingerprints far too easily and I'm worried about fingerprints on the metallic structure of the new Transformer Prime
ASUS introduces a new hydro-oleophoblic coating on both the panel and the metallic structure, resisting both water and oil smudges (those pesky fingerprints). Smudges can now be cleaned with ease.
I often find myself switching over to my Amazon Kindle when reading outside or in a room with plenty of sunlight
Not a problem, says ASUS, proudly presenting the new Super IPS+ display panel. The size, resolution and viewing angles remain the same, at 10.1in, 1,280x800 and 178 degrees, respectively, but the display can now produce around 600 nits of brightness, or 1.5x brighter than competitors'. Corning Gorilla Glass still comes as standard.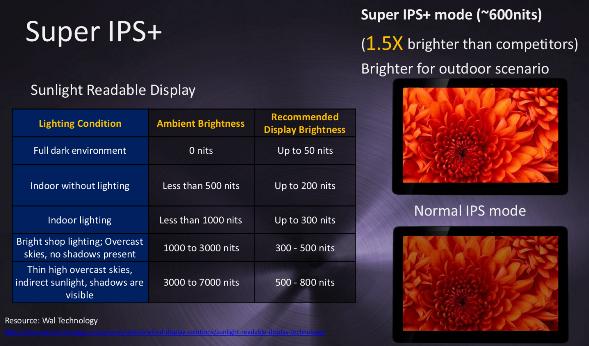 My Apple iPad-toting friends tell me that iPads are super-responsive, well-polished with excellent build quality and that my Transformer sucks
Well this writer can interject on his own question here, as also an iPad 2 owner, the differences between iOS and Android 3.2 were pretty close-cut. Yes, you can zoom in and out faster on the iPad 2, but essentially, it's just stretching a still image, a screenshot, so there's no rendering going on, and any device should be capable of that in a responsive manner.
The Transformer would resize just a little slower, all the while reformatting a webpage and streaming a YouTube video at the same time. Sure, the Transformer crashed and you received error messages, though so did the iPad 2, only it never tells you, you just find the window closing itself, having you think you'd hit the home button by mistake. When it comes down to it, both operating systems now are top-notch but have core differences in design principle and so, as to which one is better, will likely remain a matter of personal preference.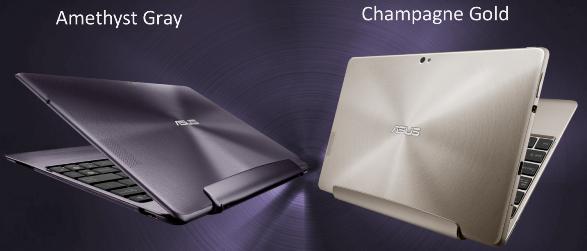 Speaking of the Transformer Prime, the new design is sleek and sexy, with a metallic-spun finish. ASUS will be offering a choice of two styles; the gold-and-silver 'Champagne Gold' and the already-well-known grey-and-purple 'Amethyst Grey'. We suspect that with this new metal casing and much-reduced device thickness, there's going to be little room for flex in the product and hopes are very much that it will have a solid feel on the same level as that expected from an iPad.
To tackle responsiveness, beyond any performance benefits the early December-bound Android 4.0 may bring, ASUS has enhanced the responsiveness of the Prime's touchpanel, quoting a response of 50ms, with the firm claiming competitor response times are at 110ms, or above.