Tough sell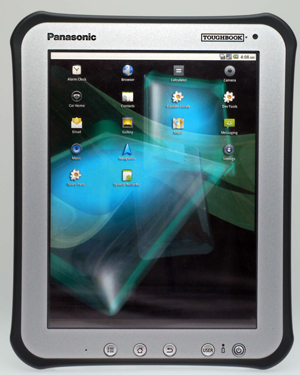 Panasonic is well known for its range of rugged Toughbook laptops and tablet PCs, so it should come as no surprise to learn that the company plans to bring a similarly-tough Android-based tablet out, too.
According to Panasonic Solutions Company presided, Rance Poehler: "The vast majority of tablet devices - regardless of the OS - are engineered for consumers and don't offer appropriate levels of security and durability or the functionality needed for business use. Like all Toughbook products, our Toughbook tablet will be designed and constructed with the mission-critical mobile user in mind."
The Toughbook tablet will feature a 10.1in, XGA (1,024 x 768 pixel) display, which will be daylight-viewable, unlike the glossy screens used by many other tablets. Specs other than that aren't forthcoming at the moment, although Panasonic does say that the Toughbook tablet will offer Wi-Fi, 3G and 4G connectivity; in addition to GPS.
To make its rugged tablet fit for use in the workplace, Panasonic promises "full-shift" battery life and hardware-level security. The version of Android to be used hasn't been specified yet, but the images made available by Panasonic indicate that it will be a 2.x-based system, instead of using the newer, tablet-orientated 3.1 'Honeycomb' version of Google's OS.
No pricing is available yet, but given the enterprise-grade build, and target market, the Toughbook tablet is unlikely to be cheap when it does reach the market.