Yesterday evening I wrote about the new Microsoft Surface Laptop 15 which now comes with an option of an AMD processor - a 'Ryzen Microsoft Surface Edition' APU, no less. Intel was also sounding rather pleased to be involved with the latest and greatest Surface devices from Microsoft, as this official blog post shows.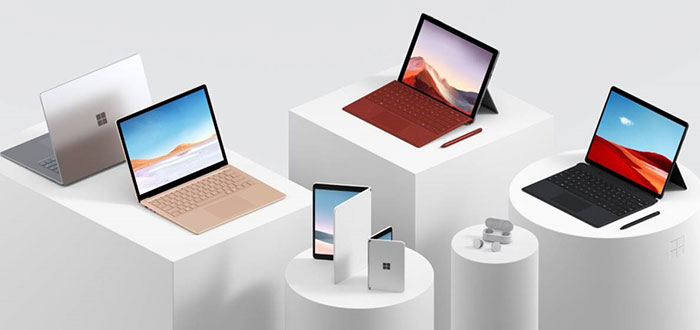 Surface Neo
Among Intel's proudest moments of the night were; the launch of the dual-screen Surface Neo which packs a Lakefield hybrid CPU using Foveros 3D packaging technology, and the updated Surface Pro 7 and Surface Laptop 3 SKUs which use 10th Gen Intel Core processors.
Above you can see the promotional video for the Microsoft Surface Neo. This device is based around 2x 9-inch screens (combined are equivalent to a 13-inch screen), a "revolutionary 360° hinge," touch, pen, keyboard, and is said to offer new Windows experiences. It is interesting to see how Microsoft envisages it being used with the physical detachable keyboard that interacts with the lower screen in laptop mode.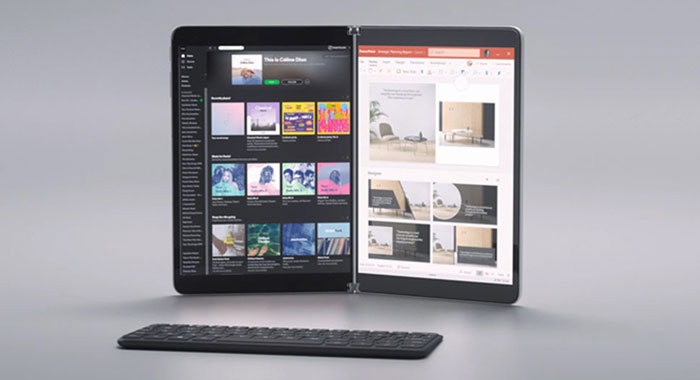 Intel is so fond of the Surface Neo as it is the first mass-market device to come packing a Lakefield processor. Lakefield leverages a hybrid CPU with Intel's Foveros 3D packaging technology to create a miniscule 12x12x1mm chip. Inside the chip is a mix of power efficient 'Tremont' cores with a performance scalable 'Sunny Cove' core to do the heavier lifting. Additionally Intel says it packs "next-generation graphics," into the tiny, low power whole.
The Surface Neo will become available ahead of Holiday 2020.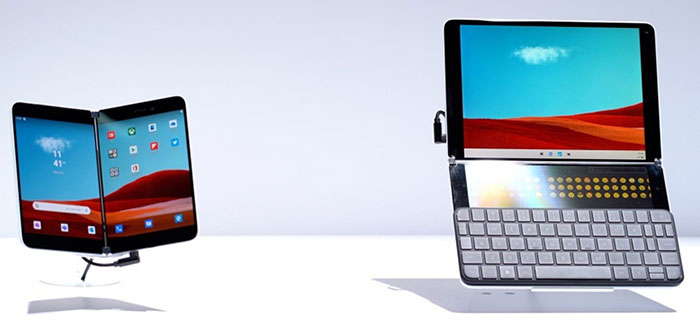 Surface Duo
The Neo wasn't the only new dual-screen device of the night. If you want something more pocketable, and running Android, you might find the new Surface Duo appealing. This little brother of the Neo is made from two 5.6-inch displays which can be fully unfolded to create an 8.3-inch tablet. Of course multi-tasking is its forte, as with the foldable smartphone such as the Samsung Galaxy Fold.
Microsoft's Panos Panay didn't seem to like calling the Surface Duo a phone, but in the promo video the first thing the lady does, after leaving her Surface Neo on the desk is to answer a call on the Duo… As mentioned in the previous paragraph this is an Android device which has a custom skin to make the OS look and work a lot like Windows 10X on the Surface Neo. Inside it is expected to come packing a Qualcomm Snapdragon 855 processor but that could change as shipments are still some time away.
The Surface Duo will become available ahead of Holiday 2020.
Surface Pro X
Another Surface with an ARM processor inside is the thinnest Surface Pro yet - the Surface Pro X. This machine is just 5.33mm thick and weighs in at 760g. Nevertheless it is a 13-inch device "in the chassis of a 12-inch device".
Inside you will find the new Microsoft SQ1 processor co-designed with Qualcomm. Microsoft says this chip "pushes 2 teraflops of graphics processing power, and is the fastest Qualcomm processor ever created for a PC". There is a new Surface Pro X Signature Keyboard which includes pen docking for secure storage and charging for the new Slim Pen. Surface Pro X starts at $999.
Surface Pro 7
For a more 'traditional' Surface device, many may have tuned in to see and read more about the new Surface Pro 7. Despite the new entrants, Microsoft insists that the Surface Pro remains the most versatile 2:1 device you can buy. It says that the new Surface Pro 7 "is now twice as fast," with its 10th Generation Intel Core processor, improved graphics, both USB-A and USB-C and an all-day battery life.
The Surface Pro 7 starts at $749.
Surface Earbuds
Getting into the wireless earbud fray, Microsoft announced the new Surface Earbuds. These are said to be ultra-comfortable and stable fitting. In terms of smart features and controls they offer intuitive touch and voice controls for music, calls and more. In particular Microsoft says that the earbuds can instantly play Spotify from your Android phone with a triple tap on either earbud.
For productivity appeal, the Surface Earbuds allow for Outlook calendar and email access with your voice. There is further Office 365 screen-free integration in apps like PowerPoint. The earbuds feature "rich, immersive Omnisonic sound," as well as all-day battery life and come with a wireless charging case.
Other new accessories were launched yesterday evening. There are new matching type covers, pens and mice to choose from to complement your Surface device.