The Microsoft Store has started to take pre-orders for its Surface Go with LTE. The smaller (10-inch), lighter (520g), and cheaper Surface Go was originally launched back in July priced from $399. Now, you can pre-order the eminently portable and connected LTE version, priced at US$679, with 8GB RAM and 128GB of storage. In the US your pre-order will be fulfilled from 20th November, when these LTE enabled devices start to ship.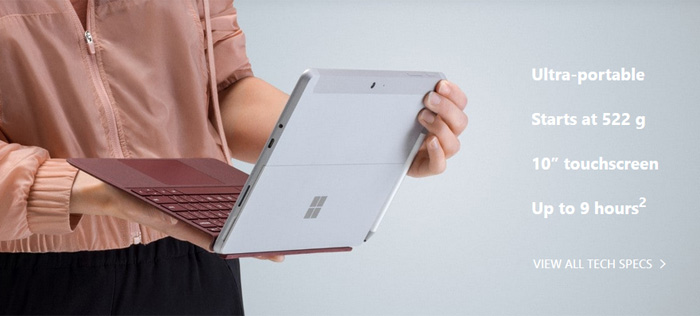 Here in the UK, the Surface Go with LTE is also pre-orderable right away but folk will have to wait until 22nd November before shipping commences. Pricing in the UK is £619 inc VAT. This price is £110 more than the otherwise identically configured Surface Go (Intel Pentium Gold 4415Y, 8GB RAM, 128GB SSD storage. As a reminder, the cheapest Surface Go has half this amount of RAM and eMMC storage and costs £379 ($399). All models come with Windows 10 Home in S Mode (freely upgradable to Windows 10 Home).

All the above prices are for the Surface tablet on its own, and many will want to bundle it in with the Type Cover (£99 / $130 [or $160 in Alcantra fabric]), and Surface Pen (£99 / $99). As you add them up, these accessories can add a couple of hundred more £$s to the base price.
Mobile network partners
Microsoft's new Surface Go with LTE won't only be available online. It is expected to be in Microsoft's bricks and mortar stores plus those select third party stores that sell Surface kit already. Additionally, Microsoft will sell the Surface Go LTE via contracts with mobile operators - just like how many smartphones get into public hands. Around the world compatibility and support is said to be available from the outset with; AT&T, Verizon, Sprint, DoCoMo, SoftBank, KDDI, EE UK, and Vodafone UK.