In February we reported upon Dixons Carphone's plans to become a mobile virtual network operator (MVNO) piggybacking on the Three network. At that time we heard that the as yet unbranded network would be introduced in summer to offer flexible tariffs and IoT data plans. The existing Talk Mobile (Vodafone) MVNO would be phased out.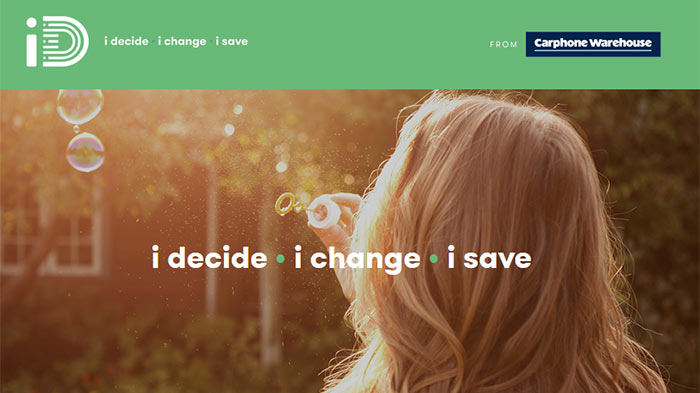 Now we learn that the new mobile network, called simply iD, will be launched in May. You will be able to sign up with the network in all Carphone Warehouse, Currys and PC World stores and online. Retail Week reports that Carphone Warehouse says it will be the "best value 4G" network in the UK and it was formed to address "common challenges" within the industry.
Carphone Warehouse UK's Graham Stapleton explained the thinking behind what the iD mobile network will offer: "People want greater flexibility from their plans and are fed up with the 'one size fits all' approach." He went further to say, "We are also a generation obsessed with the mobile internet and accessing data and services on the move – things people are either paying too much for or just aren't getting. Addressing these challenges forms the basis of the first wave of plans from iD."
The new mobile network will attempt to fit customers better by implementing:
Price capped plans
Shorter contracts
Greater worry-free roaming coverage

Remember that iD will be an MVNO based upon the Three network which already offers capped pricing and some of the best international roaming options available. However Carphone promises the same type of 'feel at home' roaming in "more European countries than anyone else". Also most people will be happier with shorter and more flexible contracts – including those contracts with phones.
An example 'mega offer' has been put forward as one of the first promotions on the iD network. The offer includes a free Samsung Galaxy A3 smartphone with 300 minutes, 5,000 texts and 1GB of 4G data for £19.50 a month. This is a 12 month contract so the term cost, which includes the service and phone, is £234 in total. This smartphone is already free on an 18.50pm 24-month contracts at Carphone Warehouse (on O2 with 500 mins, unlimited texts and 500MB data), however that's a 24 month term. Off contract and SIM-free the Samsung Galaxy A3 smartphone usually costs around £200.