Microsoft's Joe Belfiore has written a blog post outlining how Windows 10 will connect and work with "all the devices you own". From your three year old printer to your brand new Miracast enabled TV, Windows 10 will work with a huge array of different devices. The idea goes beyond dumb peripherals: thus Microsoft aims to make better and more meaningful connections to one of the most important pieces of personal technology, your smartphone.
Phone Companion app
Yesterday Belfiore announced the Phone Companion app for Windows 10. This new app will make your smartphone "work great in conjunction with your Windows 10 PC". Of course Microsoft couldn't ignore the majority of smartphones out there, to be truly useful this app will support Android and iOS smartphones as well as its home grown variety of smartphones.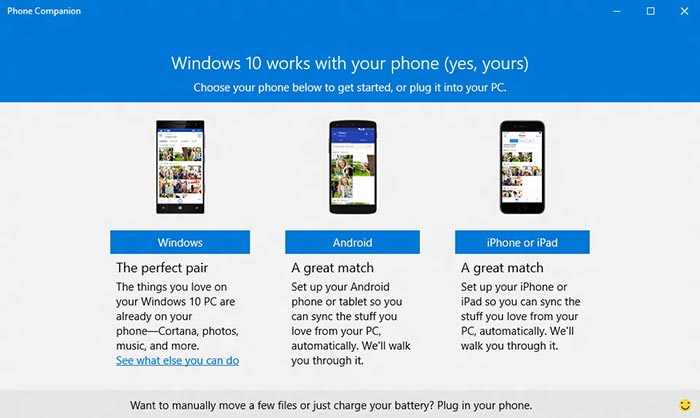 The result of the Microsoft's Phone Companion app working together with your smartphone will be that; all your photos will be cloud synced with your PC via OneDrive, your phone will be able to stream music from OneDrive music files/playlists, Your OneNote docs will be available wherever you are and your Office documents will be available and editable from any of your devices.
Cortana for Android and iOS smartphones
Windows 10 will benefit from the "deep integration" of the Cortana personal assistant, well known to many Windows Phone users. Microsoft recognises that a personal assistant is of greater benefit when you can access it on the go so the Phone Companion app will direct users of non-Windows smartphone to install the newly announced Cortana app from the Google Play or Apple App Store.
Due to its 'just an app' nature on Android and iOS Cortana can't offer as broad a range of assistant duties as on Windows Phones and PCs (for now). An example given is the hands-free invoking of Cortana because of special microphone permissions on other smartphones. Nevertheless Android and iOS users will be able to ask Cortana to remind them to get some Blu-tack next time they are near Rymans etc, and Cortana's notebook and changes to it will show up across all your devices.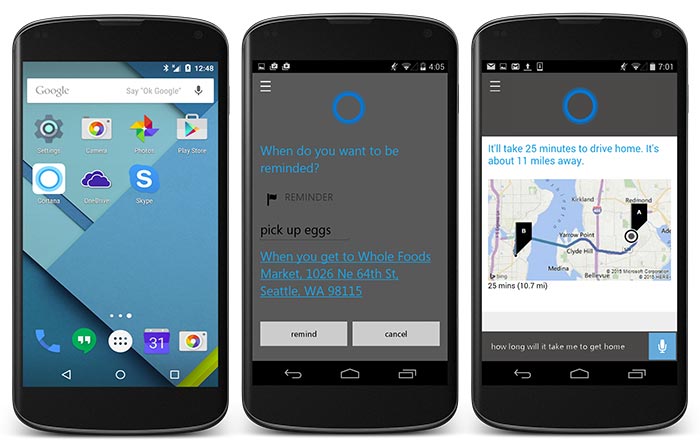 These newly announced features will be available in a new Windows 10 Insider Preview build "we'll flight out in a few weeks," says Microsoft's Belfiore. The associated Cortana software will be available for Android from the end of June and iOS smartphones "later this year". An updated Xbox Music app for Android and iOS will appear by July to allow OneDrive music playback.
More device partners to offer pre-installed Microsoft services
In March we heard about Microsoft teaming up with Samsung, Dell and several regional manufacturers - so that these device makers would include pre-installed Microsoft Office and Skype on Android tablets. Yesterday Microsoft expanded that partner list with an additional 20 partners. New big-name partners include LG and Sony with some others you might have heard of like Cube, Haier and Prestigio on the list.