Qualcomm has published a press release with details of upcoming smartphones that will be powered by its latest and greatest Snapdragon 810 SoC. The Qualcomm PR move seems to have been precipitated by a share price fall, caused by reports of Samsung dropping the powerful Snapdragon 810 processor from its upcoming Galaxy S6 smartphone - due to it causing overheating problems.
The Qualcomm press release is entitled "Qualcomm Snapdragon 810 Processor Powers Premium Tier Mobile Experiences of 2015." It includes a good few hints about upcoming smartphone designs which will be packing the new SoC , several of which read like testimonials.

The LG Flex2 as we already know comes with a Snapdragon 810 inside – and no overheating issues. It is also revealed that Xiaomi, Motorola Mobility, Sony Mobile, OPPO and Microsoft are all prepping 'Premium Tier' smartphones using the chip.
Microsoft has been releasing quite a few smartphones under its own brand recently but they have been concentrated at the low end of the spectrum so it will be very interesting to see what the first Lumia smartphone flagship under the Microsoft brand is like. Now, at least we know that something is brewing and it will be powered by the Qualcomm Snapdragon 810 processor.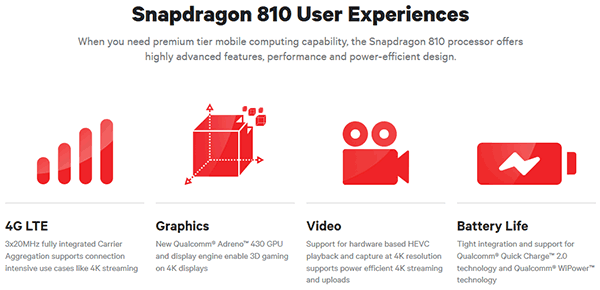 Microsoft's Juha Kokkonen, a general manager for portfolio and product management, wrote a little about Microsoft and Qualcomm's long standing collaboration (all Lumia smartphone have been Qualcomm powered so far). Kokkonen added "We look forward to continuing this relationship to deliver best in class Lumia smartphones, powered by Qualcomm's Snapdragon 810 processors, and offer an unprecedented combination of processing power, rich multimedia, high-performance graphics and wireless connectivity for our customers".
Qualcomm went on to say that there are "currently in excess of 60 devices," that are going to be powered by the new chip. Hopefully we will see plenty of them at the upcoming MWC. In the meantime below is a reminder of the key specifications that the 20nm Snapdragon 810 SoC brings to your device.
CPU: Quad-core ARM® Cortex™ A57 and quad-core A53 with 64-bit support
GPU: Adreno 430 GPU
DSP: Hexagon™ V56 DSP (up to 800MHz)
Memory: LPDDR4 1600MHz Dual-channel 64-bit (25.6GBps)/UFS Gear2 2L eMMC 5.0 SD 3.0 (UHS-I)
Modem: Integrated 4G LTE Advanced CAT9 World Mode modem supporting LTE FDD, LTE TDD, WCDMA (DC-HSPA+, DC-HSUPA), CDMA1x, EV-DO Rev. B, TD-SCDMA and GSM/EDGE
Other connectivity: BT 4.1, 2-stream 802.11n/ac Wi-Fi with MU-MIMO, NFC support, USB 2.0/3.0
Display: 4K Ultra HD on-device display concurrent with 4K Ultra HD output to HDTV 1080p and 4K external displays
Camera/Video: Up to 55 MP Dual ISP / 4K capture and playback with H.264 (AVC) and H.265 (HEVC) formats DASH supported
Battery: Qualcomm Quick Charge 2.0 technology, up to 3A out, supports Parallel Charging