The highly anticipated Samsung Galaxy S IV will be launched at an event in New York on 14th March 2013. The successor to the hugely popular Samsung Galaxy S III will be launched in the US rather than in the UK due to US mobile network pressure reports Sky News.

The launch announcement came in the form of a Tweet which said "March 14. Ready 4 the show? #UNPACKED". An image accompanying the Twitter post read "Come and meet the next Galaxy".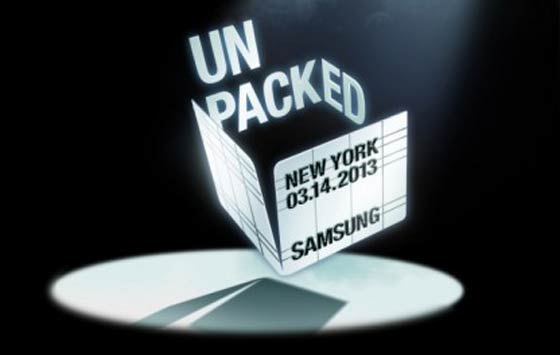 It's been three years since Samsung launched a flagship device in the US, noted Samsung's Chenny Kim. The Edaily news website quoted Samsung Electronics' mobile division chief JK Shin as saying "We introduced the Galaxy S III in London last year, and this time we changed the venue (to New York)... as we were bombarded with requests from U.S. mobile carriers to unveil the Galaxy S IV in the country."

There are no details from Samsung about what to expect as far as features and components of the Galaxy S4. The Reuters report says that almost all core features of Samsung's flagship smartphone are expected to be improved including the camera, display and processor.
Recently there has been speculation that the Galaxy S4 will not feature the Exynos 5 Octa processor as expected. The latest rumours reported by Ubergizmo and the International Business Times suggest that Samsung will use the Qualcomm Snapdragon 600 processor clocked at 1.9GHz (a smidgeon faster than the HTC One). Also sources suggest that the expected OLED display would be ditched due to manufacturing difficulties.
Rumoured specs, from SamMobile two days ago, include; a 4.99-inch Full-HD SoLux Display, 1.9GHz Qualcomm Snapdragon 600 processor, 2GB of RAM, 13MP/2MP cameras, 140x72x7.7mm and 138g, aluminium sides, Android 4.2.2.
That's all the information we have for now, hopefully there will be some good quality photos, videos and more solid specifications for Samsung's latest flagship handset leaking (or officially released - as this is "Episode 1") before the Unpacked event in New York next month.