Chinese communications brand ZTE is planning to launch two new niche devices at the Mobile World Congress in Barcelona next month. In an invite published today the company revealed two Twitter hashtags to follow for new product announcements: these are #ZTEGrandMemo and #ZTEMozilla.
Expert computer forensic analysis of the hashtag components reveal that the two new smartphones ZTE wishes to crow about, and others to talk about, are probably the ZTE Grand Memo phablet and a new ZTE Mozilla Firefox OS smartphone.
"ZTE - Life is Grand
Mobile Devices Global Media Launch – MWC 2013
ZTE would like to invite you to the announcement of two major new mobile devices at MWC 2013. To whet your appetite – the hashtags for the announcements will be:
#ZTEGrandMemo
#ZTEMozilla"
ZTE Grand Memo
Engadget had a hands-on today with the ZTE Grand Memo phablet smartphone. It sports a large 5.7-inch 720p screen. Other key specs are the 1.7GHz quad core Snapdragon S4 Pro, a 13 megapixel camera and an 8mm thick body. The Memo (Memo = Note?) runs Android 4.1.2. Though this and several other smartphones seem to be supersizing to compete with the Samsung Galaxy Note I don't see many styli on show. For me the special stylus features of the Samsung and its software suite are probably as important as the increased screen size.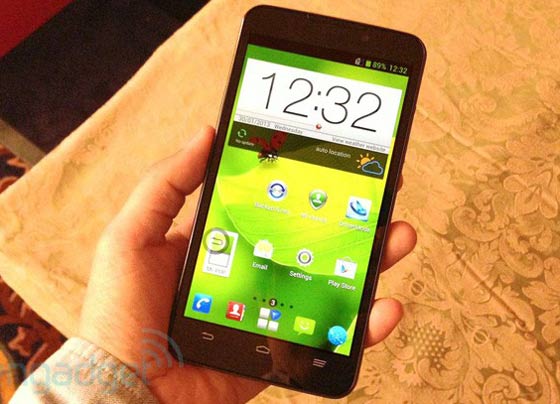 ZTE Grand Memo photo from Engadget
ZTE Mozilla phone
We heard the first news of ZTE working on a Mozilla powered phone in September. At that time a ZTE spokesman said "We are trying to increase our efforts in coming up with our own operating system, while introducing products based on Android. It's all part of our wider plans to create a better balance of products using various operating systems. We won't just rely on Android or Windows." The new OS that ZTE will dabble with is Mozilla's Firefox OS. Unfortunately no specific details of the ZTE Mozilla Firefox OS Phone are anywhere to be seen right now.
We saw the first Mozilla Firefox OS smartphones last week, made by Geeksphone of Spain. That company produced two developer preview phones with quite different specifications. It will be interesting to see what ZTE comes up with on that basis. There is scope for a Firefox OS device anywhere between entry-level to a good mid-level smartphone.
There are definitely interesting times ahead at the MWC 2013. More immediately RIM are announcing the new BlackBerry 10 platform right now... A summary of that will be up on the main site later.