The figure was three million at the start of the month and already Samsung has updated us with the news that sales of the Samsung Galaxy Note 2 (SGN2) have surpassed five million units. With the current rate of sale in mind Samsung has predicted that the SGN2 will break 20 million sales during its lifetime.
The Samsung Galaxy Note 2 went on sale in the UK in early October as Samsung's sequel to its surprise hit, the original Galaxy Note, released a year earlier. The SGN2 improved upon the original note in its processing power, handling and styling. This sequel to the original phablet has extremely impressive specs for a pocket device; such as a Samsung Exynos 4 Quad-Core 1.6GHz paired with an overclocked ARM Mali-400MP4 GPU. The OS and applications have access to a plentiful 2GB of RAM. The 5.5-inch 16:9 format display running at 1,280 x 768 pixels lets users enjoy a great touch and pen input experience and big screen mobile entertainment. As the pen is such an important feature of the original Note, Samsung has seen fit to make it more ergonomic and also improved its sensitivity from 128 to 1024 levels of pressure sensitivity.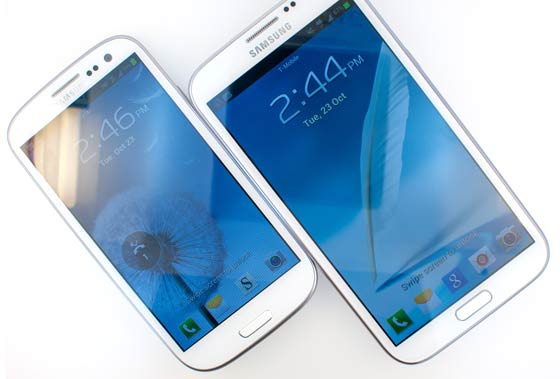 Samsung Galaxy S III next to a Samsung Galaxy Note II
There could be a brake put upon the success of the SGN2 (and many other Samsung devices) if Apple gets its way. The Galaxy Note 2 was added to the list of infringing devices in the ongoing Apple-Samsung lawsuit on Friday. The court has yet to approve the suggested additions from Apple so it's not going to interrupt anyone's Christmas shopping.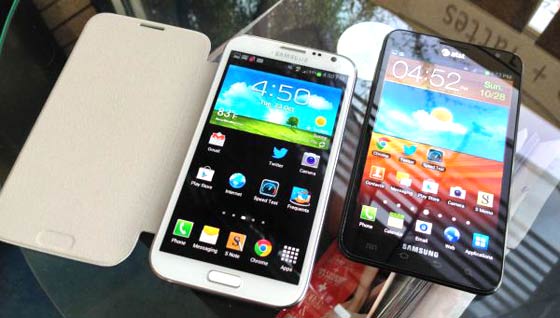 Samsung Galaxy Note II next to a Samsung Galaxy Note
Looking at all the other smartphone offerings on the market there appears to be more and more super-sized screens appearing on handsets but no other manufacturer so far has decided to follow Samsung with the phablet concept and provide a stylus and suite of stylus tools. I'd like to see more Android phablets from competitors and at the cheaper end of the market, also some Windows Phone 8 phablet choices would be attractive.
Congratulations must go to Samsung for taking this chance on the innovative Galaxy Note series and selling bucketloads.