Google's new 4.7-inch Nexus 4 smartphone sold out in the UK less than an hour after becoming available to order. The lower priced 8GB model was said to have actually run out just 15 minutes after going on sale. Such was the rush to buy the new LG manufactured Nexus 4 smartphones that Google's servers coped badly and people found it hard to navigate the Google Play store and use the online shopping basket.
The shelves are bare
At the time of writing, the UK's Google Play store is displaying both the 8GB and 16GB versions of the Nexus 4 as "SOLD OUT" with no projected dates for stock to arrive or even an "notify me" option. The product status simply says "We are out of inventory. Please check back soon."
Also released yesterday were new models in the Nexus 7 range. The top end model the Nexus 7 32GB with Wi-Fi and mobile data is "SOLD OUT" and also informs interested shoppers "We are out of inventory. Please check back soon." The 16GB Wi-Fi and 32GB Wi-Fi models still have stock available.
Finally it's a similar story for the Nexus 10, made for Google by Samsung. Both the 16GB and 32GB versions are "SOLD OUT" and you'll need to "check back soon" if you want to order one of these new 10-inch Nexus tablets.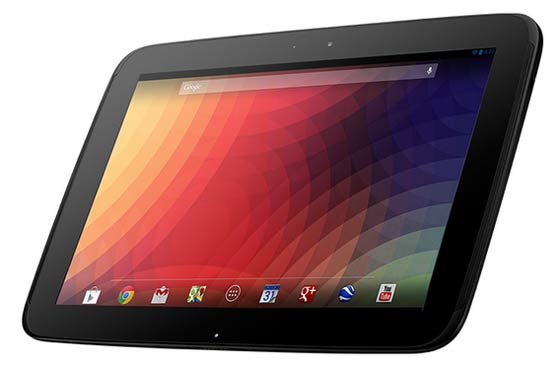 Frustration and disappointment
Many customers trying to buy a new Nexus device have been left frustrated. I have read in forums and on Twitter about several users managing to add a product to the Google Play basket which is then sold out when it comes to checkout time.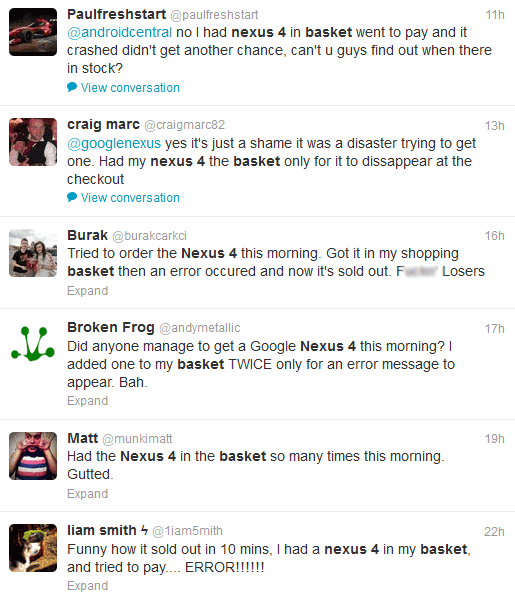 As we didn't know how much stock the UK's Google Play store held of the new Nexus devices it's hard to say how much of a success the launch has been. Reports of the 8GB Nexus 4 running out of stock in 15 minutes and the 16GB version being cleared by 30 minutes do indicate an impressive demand for these new devices. Also reports say that the US Google Play Store sold out of Nexus 4 smartphones within 50 minutes. If you are intending to get a Nexus 4 (or Nexus 7 cellular, or Nexus 10) it's really difficult to say when they will be available again. Talk Android has reported Google has stated it will restock with Nexus 4 devices "in the coming weeks".