A new report published by Strategy Analytics says that the Samsung Galaxy S3 has become the world's best selling smartphone. The Boston, Ma. analysis firm says that there were 18 million Samsung Galaxy S3 handsets shipped in Q3 compared to shipments of 16.2 million Apple iPhone 4S handsets, currently the second most popular smartphone.
Exhibit 1: Global Smartphone Shipments & Marketshare by Model in Q3 2012
| | | |
| --- | --- | --- |
| Global Smartphone Shipments by Model (Millions of Units) | Q2 '12 | Q3 '12 |
| Samsung Galaxy S3 | 5.4 | 18.0 |
| Apple iPhone 4S | 19.4 | 16.2 |
| Apple iPhone 5 | 0.0 | 6.0 |
| Others | 128.0 | 127.6 |
| Total | 152.8 | 167.8 |
| Global Smartphone Marketshare by Model (% of Total) | Q2 '12 | Q3 '12 |
| Samsung Galaxy S3 | 3.5% | 10.7% |
| Apple iPhone 4S | 12.7% | 9.7% |
| Apple iPhone 5 | 0.0% | 3.6% |
| Others | 83.8% | 76.0% |
| Total | 100.0% | 100.0% |
Senior analyst at Strategy Analytics, Neil Shah, said "The Galaxy S3 captured an impressive 11 percent share of all smartphones shipped globally and it has become the world's best-selling smartphone model for the first time ever." There are a number of factors contributing to the Galaxy S3's success including "A large touchscreen design, extensive distribution across dozens of countries, and generous operator subsidies have been among the main causes of the Galaxy S3's success," said Mr Shah. He continued "Apple shipped an estimated 16.2 million iPhone 4S units worldwide for second place, as consumers temporarily held off purchases in anticipation of a widely expected iPhone 5 upgrade at the end of the quarter."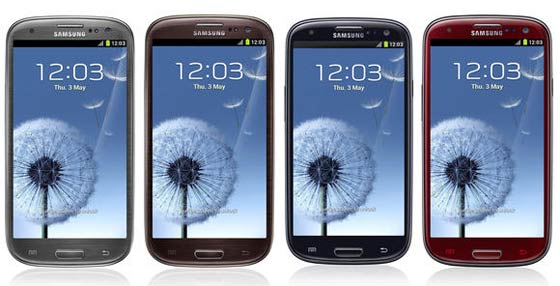 I must agree with the generous operator subsidies statement as I got two Galaxy S3s last month on contract with 300mins, unlimited texts and T-mobile's 250mb downloads FUP for my two terrible teens. These were £21pm offers with free phone, the tariff/offer isn't available any more. A similar iPhone 4S contract would have cost over £30pm.
iPhone 5 headlights dazzling in Samsung's rear view mirror
Looking ahead, Strategic Analytics think that the iPhone 5 has a good chance of usurping the Galaxy S3 for pole position in Q4. "However, the Galaxy S3's position as the world's best-selling smartphone model is likely to be short-lived. The Apple iPhone 5 has gotten off to a solid start already with an estimated 6.0 million units shipped globally during Q3 2012. We expect the new iPhone 5 to out-ship Samsung's Galaxy S3 in the coming fourth quarter of 2012 and Apple should soon reclaim the title of the world's most popular smartphone model," said Neil Mawston, Executive Director at Strategy Analytics.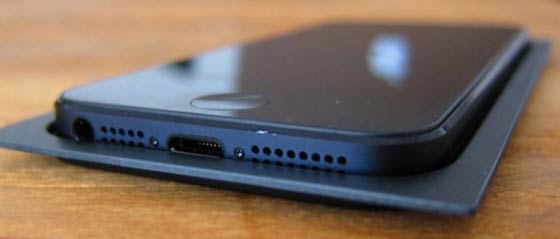 An iPhone 5 suffering from the Scuffgate issue
Actually Apple's sales for the iPhone 5 could have been much better, than the still impressive 6 million sold so far, if it wasn't for problems with supplies such as the Scuffgate, Chipgate, Scratchgate quality issues and suppliers just generally finding it hard to keep up with demand. Other non finish-related quality issues such as Mapgate, Wi-Fi-gate or Purplegate haven't seemed to dampen iPhone 5 demand much either.