Market analysts Gartner Inc. have published a new report concerning the mobile phone market, looking at sales and trends of mobile devices then extrapolating their findings to bring us reasoned predictions.
Headline figures from the report are that sales of mobile phones worldwide declined by 2 per cent in Q1 2012. Also that Samsung branded Android phones were 40 per cent of all Android phones.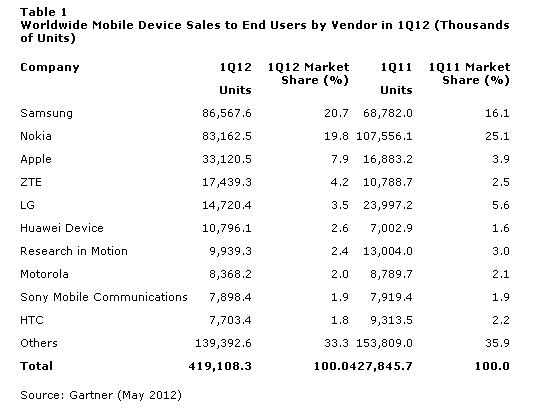 Looking deeper into the report Gartner analyst Anshul Gupta thought "The first quarter, traditionally the strongest quarter for Asia – which is driven by Chinese New Year, saw a lack of new product launches from leading manufacturers, and users delayed upgrades in the hope of better smartphone deals arriving later in the year."
Principal research analyst Annette Zimmermann expects Q2 sales to improve with new phones and OS versions coming to market. "The arrival of new products in mature markets based on new versions of the Android and Windows Phone operating systems (OSs), and the launch of the Apple iPhone 5 will help drive a stronger second half in Western Europe and North America."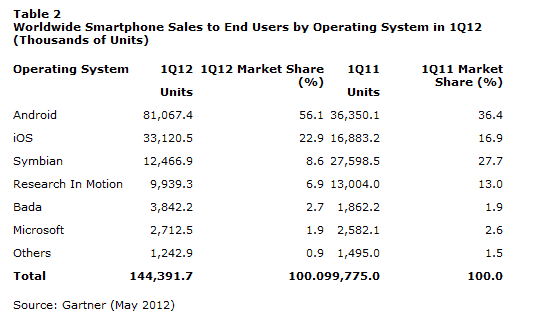 Indeed while mobile phone sales dropped smartphone sales are still growing, up nearly 45 per cent year on year. However the news isn't that good for most manufacturers in the crowded Android market. Anshul Gupta explained; "At the high end, hardware features coupled with applications and services are helping differentiation, but this is restricted to major players with intellectual property assets. However, in the mid to low-end segment, price is increasingly becoming the sole differentiator. This will only worsen with the entry of new players and the dominance of Chinese manufacturers, leading to increased competition, low profitability and scattered market share."
So while Samsung are making their Android phones special or differentiated to help their sales at higher, more profitable prices other companies will have to try harder to be anything other than me-too products which are more or less the same, only able to compete by cutting prices/margins. Sony, HTC, Motorola and LG should have the resources to differentiate their smartphones, but they need to try harder it seems. Concerning other smartphones; Apple's iPhone is still going strong (96 per cent growth in Q1 thanks to Asia). The Microsoft/Nokia partnership smartphones are at a critical moment in their attempt to break through, so it will be interesting to see how they have impacted the market this time next year.