Nokia is suffering from a triple whammy of bad news as new figures came to light showing competitor Samsung is probably outselling Nokia for the first time, becoming the top handset maker in the world. Yesterday Nokia issued a profits warning saying it would probably lose money in the first half of the year and the day before we had the news about the Nokia Lumia 900 internet bug.
Nokia was, for 14 years, the most popular mobile phone brand in the world. However the advent of smartphones has seen it struggle to respond to Apple's iPhone and smartphones running Google's Android OS. Nokia's smartphones were focussed on the Symbian OS which has now been further marginalised. Nokia partnered with Microsoft about a year ago, to try and get back in the race for smartphone pole position using the Windows Phone OS. Incidentally Samsung used to concentrate on their bada OS smartphones but refocused on Android in 2009. It's a strategy that has paid off.
Analyst estimates of the Q1 2012 sales figures are as follows:
Samsung 92 million units (estimated 44 million were smartphones)
Nokia 83 million units (12 million smartphones and 71 million low end models)
This year while Samsung's stock has increased in value by 20 per cent, Nokia has been on the other end of the see-saw, losing 20 per cent. Looking at the figures above it appears that Nokia has had to reply more and more on the cheaper end of the market for sales. Kim Young Chan from Shinhan Investment Corp., Korea said "Nokia is slower than expected in responding to the smartphone market, whereas Samsung is doing better with models like the Galaxy Note. The net result is Samsung edging out Nokia faster than expected."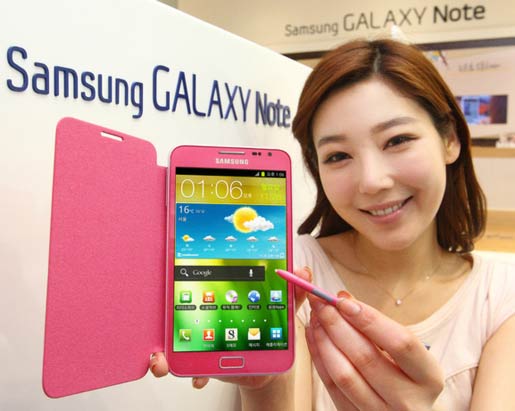 Another analyst, Thomas Langer at West LB, explaining the Nokia slump, said "Shipments of Symbian devices are declining faster than we anticipated and I think that was maybe the single most important risk with regard to the Nokia model: that the ramp-up of Lumia devices is not fast enough to compensate for the shortfall in Symbian shipments."
Nokia shareholders hope that the challenging transition that the company is in can be completed successfully. Is this what Nokia's CEO talked about when he said the company has to jump off the burning oil platform into the icy water to survive? Yesterdays shareholder reaction makes you think the burning platform was at a greater height or the chunks of ice were bigger than expected. An interesting article at The Times of India suggests several paths which could get Nokia back into growth.