e-reader excitement
Amazon has proved rumours true by unveiling its sleeker next generation Kindle with Wi-Fi and optional 3G connectivity.
Rumours were rife of a new arrival after Amazon listed its Kindle 6 inch e-reader as 'out of stock' with no expected in-stock date.
In-line with predictions, the next generation Kindle is smaller and lighter than their predecessors. Available in two versions both with Wi-Fi, fans can choose a $189 model with 3G wireless or Wi-Fi only version for $139, undercutting Barnes & Noble's Wi-Fi enabled Nook by about $10.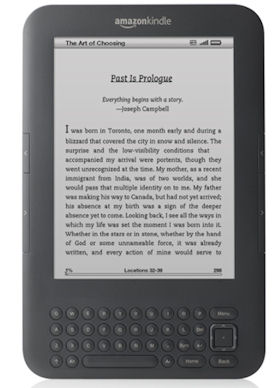 The new Kindle can be pre-ordered in white or graphite and is due to ship on 27 August.
Amazon said both models boast clearer text and sharper images, as the 'high-contrast E-Ink screen is 50 percent better than any other e-reader'. While they still have the same six inch reading areas, both versions are sleeker with a 21 percent smaller body with a soft-touch textured back and are 17 percent lighter.
Importantly, the next generation models have double the storage capacity of their predecessors and are now able to store around 3,500 e-books. At 8.5 ounces and 8.7 ounces for the 3G version, both Kindles are 'lighter than a paperback and thinner than a magazine' according to Amazon.
Other tweaks include quieter page turn buttons plus faster page turning, voice guide read-to-me menus, as well as an improved PDF reader that now includes dictionary, notes and highlight functions.