At a special event in London yesterday Motorola launched the Moto X smartphone for Europe. That's what was widely expected of the event and that's what transpired. However later in the evening Motorola and Google quietly released another handset, which isn't being sold outside of the US for now, the Moto G Google Play Edition.
The Motorola flagship Moto X will be available in retail in Europe (specifically the UK, France and Germany) from 1st February. It will be priced at £380/€399 SIM free. Previously the Moto X had only been available in North America and Latin America.
Black or white?
UK retailers including Carphone Warehouse, O2 and Amazon will have the black version of this no-touch-required smartphone for sale but Phones4U has exclusivity on the white version for three months. Just two basic colour choices in Europe is a bit disappointing. UK contracts with the Moto X for free will start from approximately £25pm. When the smartphone does hit our shores it will be sporting the latest version of Android KitKat available; version 4.4.2.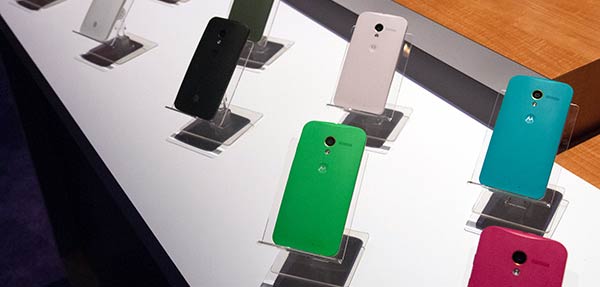 Just black and white models in Europe
Andrew Morley, Vice President & General Manager of Motorola Mobility UK said at the Moto X launch "as a Google company, we've become the kind of company that can build a 4G smartphone like Moto X. It fuses our history of mobile innovation with the best of Google mobile services."
Moto G Google Play Edition
Yesterday evening a Google Play Edition (GPE) of the Moto G smartphone was announced. Now US smartphone buyers will be able to buy a Moto G which offers the 'Nexus' Android experience. However from what I know of the ordinary Moto G the Android OS installed was subject to minimal changes or customisations. While the Moto G is already among the first handsets to get KitKat the GPE should be even faster to get updated in the future.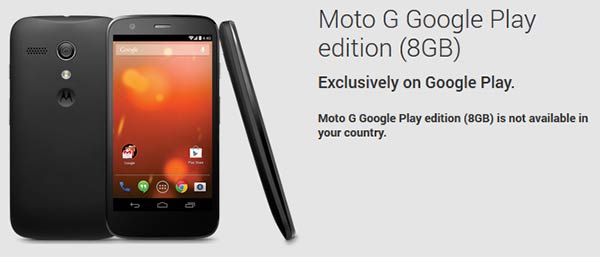 The Moto G GPE doesn't have a price premium; the 8GB version is US$179 and the 16GB version is US$199.