This Halloween night Google has treated us to a new generation Nexus smartphone - the Google Nexus 5, made by LG. The web giant says the new Nexus is "the slimmest and fastest Nexus phone ever made". This smartphone is powered by the latest Google mobile OS; Android 4.4 KitKat. Other headlining features include a 5-inch full HD display, an 8-megapixel rear facing camera with OIS and a 2.3GHz Qualcomm Snapdragon 800 processor. The cheapest version, with 16GB of built-in storage, costs £299 ($349), the 32GB version costs £339 ($399).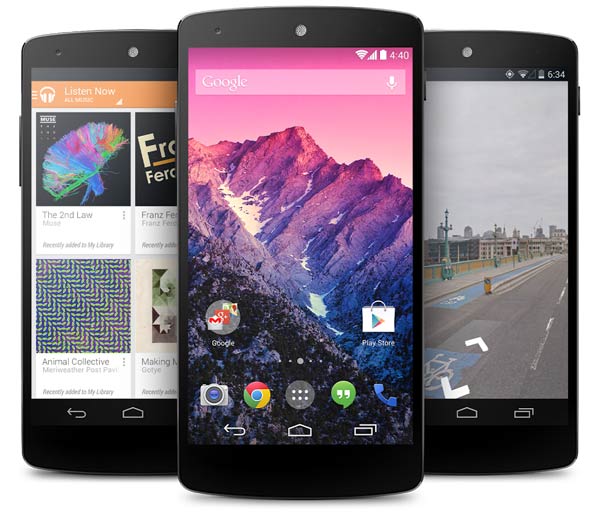 Despite all its advances the Nexus 5 is slimmer and lighter than its predecessor, it's only 8.59mm thick and tips the scales at 130g. The new 5-inch full HD display gives you "more room to do what you do, and better colours too," says Google. The new Nexus is built for speed and the quad-core 2.3GHz Qualcomm Snapdragon 800 processor, ultra-fast 4G/LTE, Android KitKat packing device can help you in "getting stuff done without having to think about the technology underneath."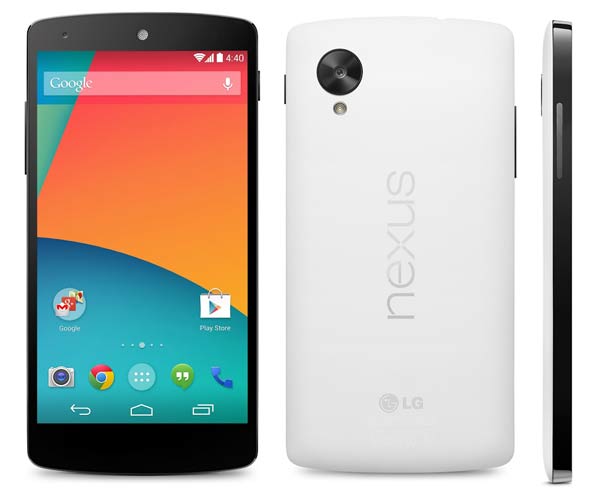 Google Nexus 5 official tech specs:
OS: Android 4.4 (KitKat)
Screen: 4.95" 1920x1080 display (445 ppi), Full HD IPS, Corning Gorilla Glass 3
Camera: 1.3MP front facing, 8MP rear facing with Optical Image Stabilization
Size: 69.17 x 137.84 x 8.59 mm
Weight: 4.59 oz (130 g)
Battery: 2,300 mAH, Talk time up to 17 hours, Standby time up to 300 hours, Internet time up to 8.5 hours on Wi-Fi, up to 7 hours on LTE, Wireless Charging built-in
Audio Output: Built-in speaker, 3.5mm stereo audio connector
CPU: Qualcomm Snapdragon 800, 2.3GHz
GPU: Adreno 330, 450MHz
Despite all that juicy new hardware, as listed above, Google has promoted the new imaging functionality above all other aspects of this new smartphone. The new 8-megapixel main camera on the rear uses a new lens to capture more light and pairs this with optical image stabilisation (OIS) to help reduce common shaking/fumbling blurs. There is also a new HDR+ mode to give you the best possible photo exposure. Rounding off the photo offering a new Photo Sphere app helps create "immersive 360 degree" scenes.
Android KitKat
Google has now published on its official blog information about KitKat being able to run comfortably on lower-end Android phones with 512MB of RAM on board. We wrote about that earlier in the day here on HEXUS thanks to a documentation leak about that very subject. The new less resource hungry Android should "bringing the latest goodies in Android 4.4 within reach for the next billion smartphone users," opines the Google blog optimistically.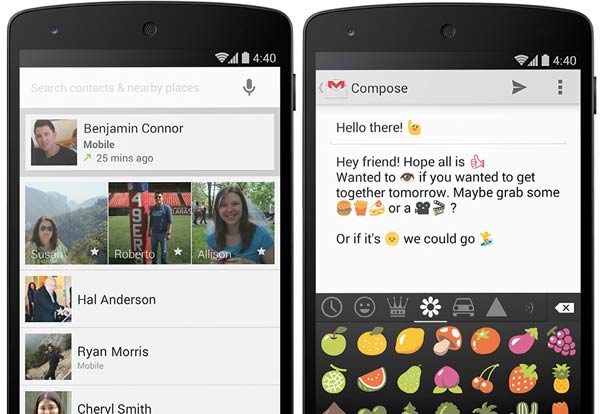 Google hasn't just made Android leaner of course, big changes have arrived to the Phone app (sounds a bit like the Windows Phone People app on firnst view) and your SMS and MMS messages are folded into Google's Hangouts app. Like we saw the Moto X phone previously, KitKat devices can be controlled without touching the screen using the "OK Google" command. The new OS also features faster multi-tasking, more immersive content consumption and expanded printer support. You can read much more about KitKat on the official page.
At the time of writing you can order a Nexus 5 with either 16GB (£299) or 32GB (£339) of built-in storage. If you order a black Nexus 5 your purchase will be despatched "by 8th November", if you order a white Nexus 5 it will leave the warehouse in "1 - 2 business days".