HTC has unveiled some new smartphones which will be heading to the 2013 IFA Berlin exhibition in a few days time. A mid range and a budget model have been officially announced today, the HTC Desire 601 and the HTC Desire 300 respectively. The Desire 601 is particularly interesting as it seeks to bring premium 'One' features to the mid-market. It certainly has the handsome looks of the HTC One, however it is constructed within a polycarbonate rather than an aluminium casing. HTC also announced today that the HTC One and One Mini would be released in some regions in 'Vivid Blue'.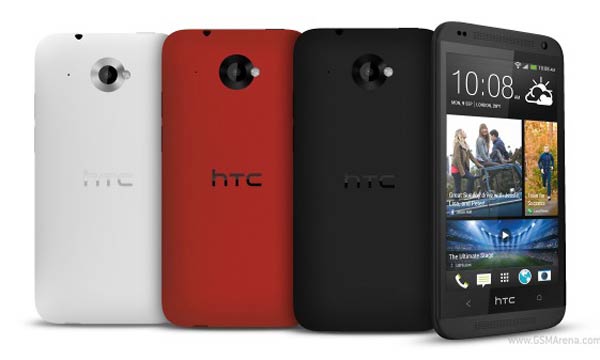 HTC Desire 601
As mentioned in the intro this new smartphone has a look very reminiscent of the HTC One/mini but it is constructed from polycarbonate. Pocket Lint actually describes it as "the plastic HTC One mini" in its hands-on article about this new smartphone. Though it features 'One' niceties such as HTC BlinkFeed, HTC Zoe and HTC BoomSound it lacks the Ultrapixel technology in the 'One'.
The key hardware specs of the HTC Desire 601 are as follows; dual-core Qualcomm Snapdragon 400 processor at 1.4GHz, 1GB RAM, 4.5-inch 960 x 540 pixel screen, 8GB storage plus microSD slot, 5-megapixel camera, LTE-4G connectivity, 2100mAh battery (not removable), dimensions of 134.5 x 66.7 x 9.88mm and 130g in weight.
The Desire 601 will arrive by the end of September/early October this year but the price is not yet known. Pocket Lint reckons that it might not be available in territories where the HTC One Mini is already available and also it isn't worth buying unless it is significantly cheaper than the Mini.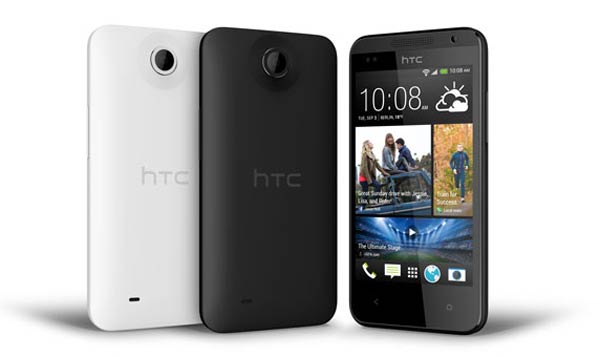 HTC Desire 300
Making further cuts and feature reductions to aim at the budget market, HTC are to introduce the HTC Desire 300. It comes with HTC Blinkfeed but lacks HTC Zoe and BoomSound. The style is also further removed from the flagship HTC One. The Desire 300's key specs include; a 1Ghz dual-core Snapragon S4 processor with 512MB of RAM, a 4.3-inch WVGA screen (480 x 800 pixels), 1.2GB of built-in storage plus microSD card support, HSDPA, 7.2 Mbps connectivity, a 5 megapixel camera and a 1650mAh (removable) battery. This smartphone will launch alongside the HTC Desire 601, it also has no price details.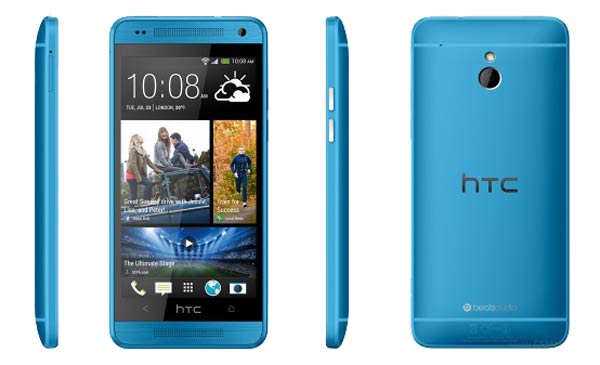 HTC One and HTC One Mini in Vivid Blue
These bright blue variations of the flagship HTC One/Mini smartphones are to be launched "this quarter". This colour option is region specific and HTC hasn't detailed which regions will receive stock of this Vivid Blue option as yet.