Yesterday we looked at some CES smartphone launches and announcements from big players such as Sony, Huawei and Lenovo. All of those had some merit, showing off mostly incremental improvements and tweaks to existing designs. Today a new smartphone by Russian firm Yota Devices has caught my eye. The major USP on offer from the Android powered "YotaPhone" is that it has a screen on both sides.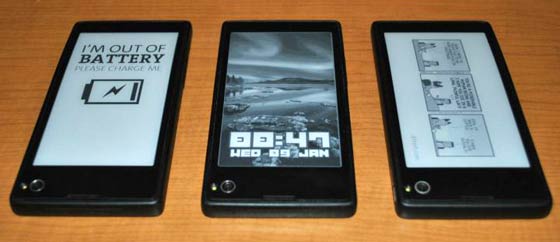 This is the e-ink side of the phone
The YotaPhone's main LCD screen is a 4.3-inch 720p display, flip the device over and there's a 4.3-inch e-ink display! E-ink displays are renowned for their thrifty use of battery power, only requiring a little squirt of energy when the display updates/changes. Yota Devices thought this would be a good way to display useful reminders, graphics and notifications on a smartphone.
Time Magazine had a hands-on with this new smartphone and I've embedded their video below.
In summary the benefits of the second e-ink screen include the following:
Send a still of any screen to the e-ink display on the back by dragging the length of the display with two fingers (e.g. an aeroplane boarding pass)
A self updating clock and wallpaper can be shown on the e-ink display
Other notifications can be displayed on the always-on e-ink screen such as emails, texts and diary appointments appear as and when the reminder time comes up.
Surprisingly there was no mention of using the phone's e-ink screen as an e-book reader; perhaps being able to turn the pages back and forth with the volume rocker.
Let's take a look at the rest of the specs of the YotaPhone:
| | |
| --- | --- |
| Display | 4.3-inch 720p colour multi-touch LCS and 4.3-inch e-ink screen. Gorilla Glass on both sides |
| Processor | Dual-core 1.4 GHz Snapdragon S4 processor, paired with 2GB of RAM |
| Storage | 32GB of storage |
| Camera | 13 megapixels |
| System | Android 4.1 |
| Dimensions | 9.6mm at its thickest point |
Yota Devices intends to launch the YotaPhone worldwide during the latter part of 2013.