What is going to happen at the Google special event at New York's Basketball City, Pier 36 site on Monday? The event, which is timed to coincide with the launch of Windows Phone 8 and perhaps steal some of Microsoft's thunder, may have had all its fizz removed by UK and Latvian retailers champing at the bit to flog the new gear. By Monday, Google's revelations could be OLD news!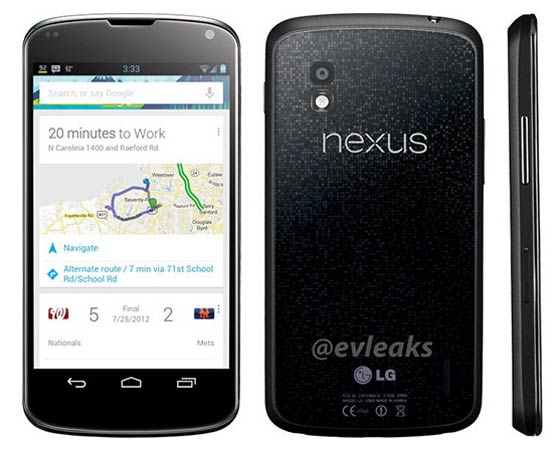 Google Nexus 4 by LG
UK mobile retailer Carphone Warehouse (CPW) jumped the gun yesterday by upping a pre-order page for the yet to be revealed Google Nexus 4. The new LG made smartphone, supposed to be the centrepiece of a New York special Google event on Monday 29th October, was pictured and detailed on CPW's pages with the suggestion you pre-order it for delivery on 30th October.
As with any smartphone on the CPW website the sales blurb reveals most of the spec you would like to know about a before buying. Unfortunately some of the spec details given by CPW seem to contradict other page details; the Android OS version for instance - is it 4.1.2 or 4.2?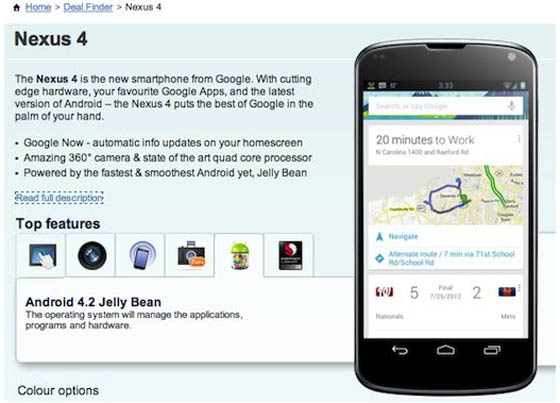 Let's have a look at the specs for the new LG made Google Nexus 4 smartphone according CPW's leak;
Screen: 4.7-inch, 320ppi, 1280 x 768 pixel resolution. Protected by Gorilla Glass 2
CPU: Quad-core Snapdragon S4 processor running at 1.5GHz
RAM: 2GB
Storage: 8GB memory, no memory card slot
Imaging: 8 megapixel back camera only, 1080p video mode, panorama mode
Physical properties: 133.9 x 68.7 x 9.1mm, weight not listed
Software: Android Jelly Bean 4.1.2 or 4.2 depending on which CPW tab you read. Swipe input
Pricing: Free on contracts from £31 per month
Looking at the design, the LG made device is low key rather generic, the back looks like it has a pixelated design. The CPW page has been removed from the site now. Hopefully the restrictive storage info above is another CPW typing glitch. The Nexus 4 is the fourth Google smartphone, makes me wonder what will happen when it reaches a 7th iteration.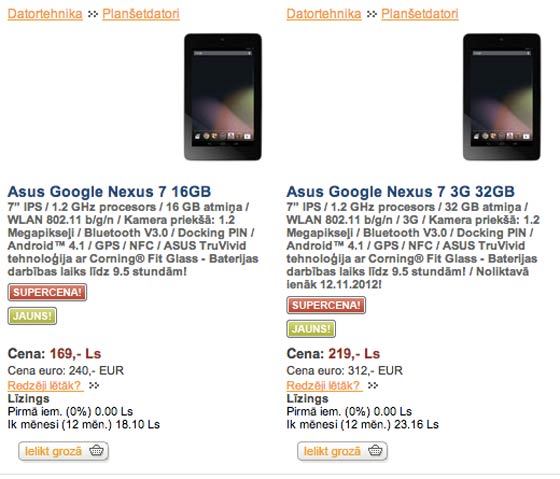 The 32GB Nexus 7 Wi-Fi/3G version
Today from Latvia comes a premature listing of the ASUS/Google Nexus 7 32GB 3G model. The Baltic online retailer "1A" has done a bit of a CPW and listed this new revision tablet for sale at a price of 312 Euros. A bit of online currency conversion indicates that we should see the 32GB Wi-Fi/3G model of the Google Nexus 7 priced at about the same as the Apple iPad mini, perhaps undercutting it at £250-ish.
As always with these kinds of leaks there may be some retailer/publisher errors. We will confirm the official specs and details of Google's New York revelations after the event next week.