An early surprise folks, LG has officially announced its Optimus G superphone, before it had even finished delivering its staggered video teasers.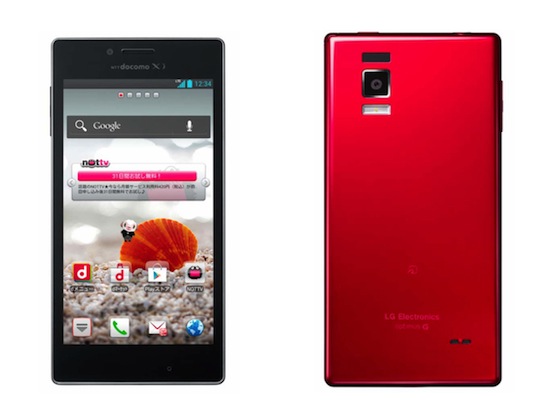 Without further ado, here are the specifications:
| | |
| --- | --- |
| CPU | Quad-Core Snapdragon S4 Pro APQ8064 1.5GHz |
| GPU | Adreno 320 |
| RAM | 2GB |
| Display | 4.7in 1,280 x 768 True HD IPS+ and secondary 15:9 Stripe RGB IPS Panel |
| Camera | 13-megapixel rear + flash, 1.3-megapixel front |
| Storage | 32GB internal flash |
| Connectivity | 4G LTE, Bluetooth 4.0, Wi-Fi, USB2.0 HS, A-GPS, MHL, DLNA, NFC |
| Battery | 2,100mAh extended charge life |
| Dimensions | 131.9 x 68.9 x 8.45 (mm) |
| Weight | 145g |
| OS | Android 4.0.4 ICS |
Wowsers, what a list. Whilst we can't directly compare height and width with the GALAXY S III, as that device features a 4.8in display, it's interesting to note that the Optimus G is 0.15 millimetres thinner than the S III, though, with LG not favouring Samsung's light-plastic build philosophy, the device is 12 grams heavier, despite featuring a battery of equal capacity.
LG is claiming that, thanks to in-cell technology on the display, diffused reflections are removed, coupled with 470nitts of brightness, this makes for great outdoor viewing. Likewise, the display is capable of reproducing the full sRGB spectrum. It's quite possible we could be witnessing something that rivals or even surpasses the excellent display of the HTC One X.
The camera is an impressive 13-megapixels, perhaps bested only by Nokia's PureView devices. The sensor takes advantage of GPGPU acceleration on the Adreno 320 to handle the high megapixel count, whilst offering advanced facilities such as live zooming during video recording. LG is claiming that the Adreno 320 is over three times faster than the 225 found in standard Snapdragon S4 offerings, such as in the US edition of the GALAXY S III.
For more details on some of the technology in LG's superphone, head on over to our previous report. The smartphone market is really heating up now, just how will other firms respond?