Imagine if you will, the remote possibility that you have bought an Apple Watch Edition and are feeling a bit underwhelmed or unsatisfied with the product. These top of the range 'Edition' smartwatches range in price from $10,000 up to $17,000. Luckily you can always return it, if you change your mind, thanks to Apple's standard 14 day store returns policy. However, once at the store, the staff will be obliged to go through a laborious array of checks and double checks.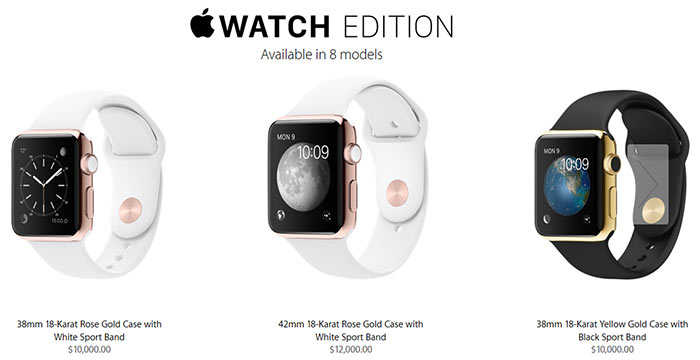 Perhaps I shouldn't have bought that?
For those of us that feel pangs of 'post purchase dissonance' after buying a pack of biscuits which may not be as scrumptious as they look on the packaging, it's quite easy to imagine considering the return of such an expensive smartwatch. First of all many people consider smartwatches to be gadgets offering minimal utility value and if you really do want an Apple Watch, for example, you can get functionally identical models from $349. Alternatively, if you are looking for a watch for jewellery purposes there are much sleeker, higher pedigree timepieces available for well under Apple Watch Edition prices.
9to5Mac has published a document which offers guidelines to Apple Store staff on how to process in-store returns and exchanges of your unwanted Apple Watch Edition. It outlines the stringent checks that store managers and 'geniuses' must go through before accepting the returned product.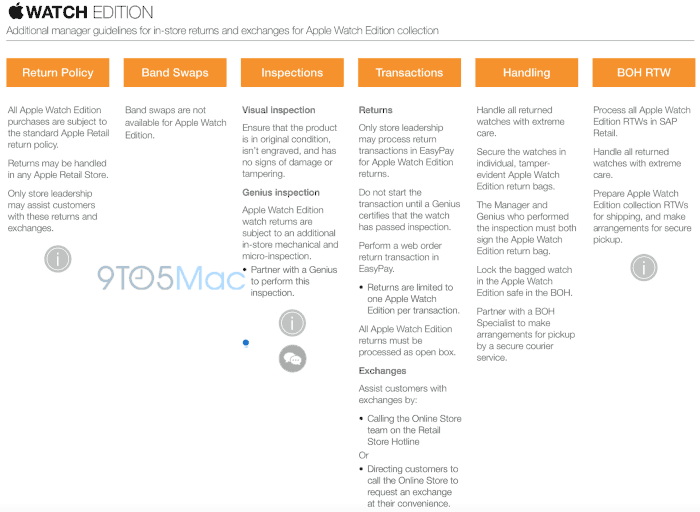 Microscope and weighing scales
The process starts with the Apple Watch Edition getting an initial visual once-over by the manager who looks over basic condition, added engraving, damage or signs of tampering. Next a 'genius' gives the smartwatch an in-store mechanical check and micro-inspection. The micro-inspection involves the use of special tools "including microscopes and a gold weight scale, to ensure that no gold has been removed from the Watch to be sold on secondary markets," says 9to5Mac.
If the watch passes that first round of tests then the manager takes over the process again to implement the returns transaction with "extreme care," processing the device as an 'open box' item. The manager will send the watch back to Apple in a special, individually marked, "tamper-evident" Apple Watch Edition return bag.
Up to 2.3 million sold in pre-orders
Looking at how well the Apple Watch is doing, reports late last week indicated that online sales adding up to £1 billion in value were made in its first week of availability. However many pre-order customers, and those who wish to buy in-store, will have to wait until June to get one of these smartwatches.