Memory specialist Kingston has announced its fastest ever Secure Digital memory card, the SDHC/SDXC UHS-I U3 (Kingston part #: SDA3/xxGB). This card will be made available in capacities of 16GB, 32GB and 64GB and offers speeds of 90MB/s read and 80MB/s write which is up to nine times faster than standard Class 10 SD cards. Kingston says this new memory card range is especially useful for both professionals and consumers to record 4K and other HD video resolutions.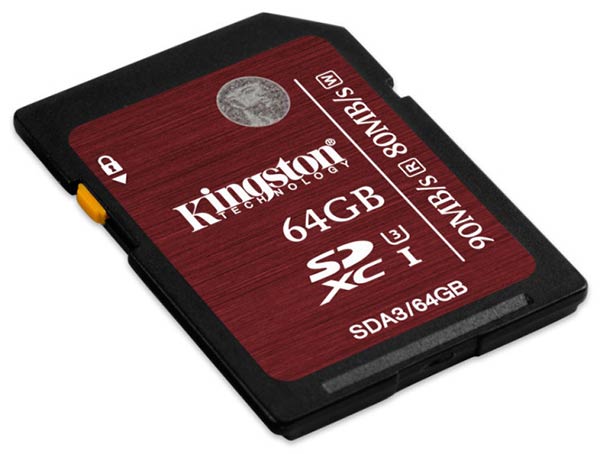 Kingston's SDA3/xxGB range exceed the SD Association's latest specification, UHS-I U3 (Ultra High-Speed Bus, Speed Class 3), which guarantees performance of at least 30MB/s read and write. That minimum is set as recommended for the record and playback of 4K video without any stutters or interruption. The 90MB/s read and 80MB/s write speeds are said to "ensure the best video and photo integrity by reducing stutter as well as faster PC upload time".
Kingston SDA3/xxGB specs:
Versatile: Class 10 performance when used in a non-UHS-I capable device
Compliant: with the SD Card Association specification
Secure: built-in write-protect switch prevents accidental data loss
Compatible: with SDHC & SDXC host devices; SDXC cards are not compatible with SDHC-enabled devices/readers
File format: FAT32 (SDHC 16GB–32GB), exFAT (SDXC 64GB)
Guaranteed: lifetime warranty, free technical support
Capacities: 16GB, 32GB, 64GB
Dimensions: 24mm x 32mm x 2.1mm
Operating Temperatures: -25°C to 85°C
Storage Temperatures: -40°C to 85°C
Voltage: 3.3v
Performance: up to 90MB/s read and 80MB/s write, UHS-I Speed Class 3 (U3)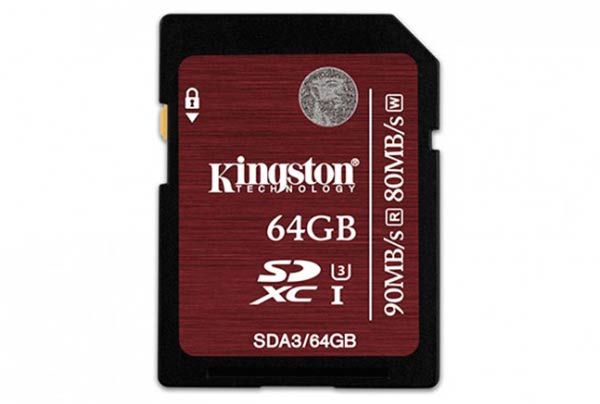 These new Kingston memory cards are compatible with all SDHC and SDXC host devices. As well as being optimised for ultra-HD video recording the SDA3/xxGB range make a good choice for high performance professional cameras using burst or continuous photo modes. It is also recommended that users have a USB 3.0 card reader to make the most of the data transfer speeds to PC. Scan lists the 64GB version of the SDA3 for pre-order at just over £75.