Razer has announced the Razer Power Bank smart charge accessory. The firm angles this accessory as a facilitator of extended battery life for your USB-C laptop. For example, Razer says that with its new Power Bank in tow, the Razer Blade Stealth can operate power-outlet-free for over 15 hours.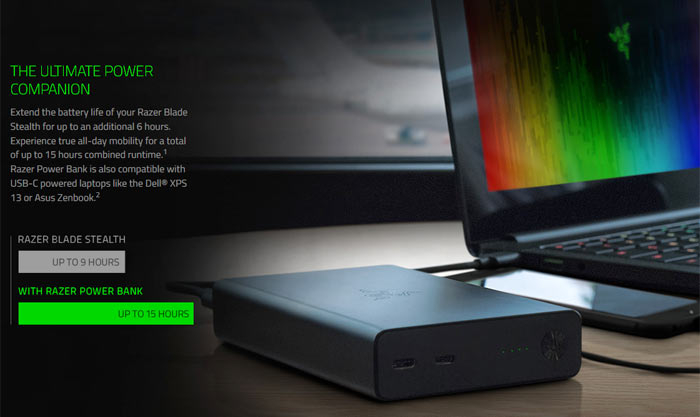 "High-performance mobile laptops like the Razer Blade Stealth are more a part of daily life than ever before, and keeping them charged and ready is a high priority," said Min-Liang Tan, Razer co-founder and CEO. "The Razer Power Bank enables true mobility for users who can now quickly and smartly charge their laptop, phone and tablet at the same time when an outlet isn't an option."
As hinted at above by Mr Tan, the Razer Power Bank offers multiple charging ports. It offers dual USB-A ports and a USB-C port for charging up to three mobile devices simultaneously. The device has the 'intelligence' to recognise the type of device requiring charge and can fast-charge the Blade Stealth to provide an additional six hours of battery life in less than two hours. Furthermore, it is Qualcomm Quick Charge 3.0 compatible, charging some mobile devices 4x faster than conventional chargers.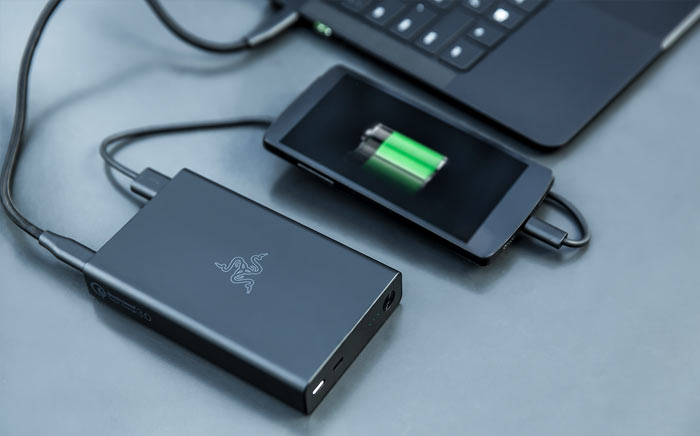 Key hardware specs of this portable power bank are that its charge capacity is 12,800mAh, and it measures 126 x 78 x 23mm, weighing in at 335g. Razer has designed its power bank with a rounded edged CNC aluminium shell. (It reminds me of the design of my own Asus Power Bank, as the shape, power button, and charge indicator LEDs look similar.)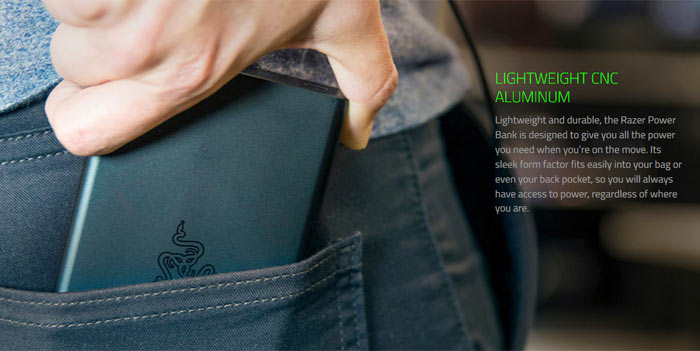 At the time of writing the Razer Power Bank is a 'Notify Me' product in the RazerZone store. In an email to HEXUS, Razer said we should expect availability in March. Pricing has been set at US$149.99 / €169.99 / £144.99.
Battery Type: 46Wh Lithium-ion Rechargeable
Battery Capacity: 12,800mAh Portable Powerhouse
Power Input - Charge Power Bank: USB Type-C | 5V / 9V / 12V / 15V / 20V, 1A to 3A max.
Micro USB | 5V, 1A to 2.4A max.
AC Adapter sold separately. Compatible with Razer Blade Stealth 45W USB-C Power Adapter.
Power Output - Charge Devices: USB Type-C | 5V 3A / 9V 3A / 12V 3A / 15V 3A / 20V 2.25A
USB Type-A | 5V 2A / 9V 2A / 12V 1.5A
Razer Power Bank Charging Time (approx.): 2 hours using the Razer Blade Stealth 45W Adapter. Adapter sold separately.
Dimensions: Length: 4.95" / 125.8mm, Width: 3.08" / 78.2mm, Height: 0.92" / 23.4mm
Weight: 0.74 lbs. / 335g
Warranty: 1 Year Warranty
Package Contents: Razer Power Bank, USB Type-C cable, USB Standard-A to USB Type-C cable, Important Product Information Guide