The improved visual fidelity of modern computer games has come at the inevitable cost of storage space. Want to install the likes of Gears of War 4 or Forza Motorsport 7? Reports suggest you'll need roughly 55GB and 70GB, respectively, and those estimates are only likely to increase as games begin to adopt substantial 4K assets.
Given the weight of these games, it's a surprise that consoles continue to ship with limited internal capacity. A standard Xbox One S or PlayStation 4 offers just 500GB to play with, while the Nintendo Switch ships with a paltry 32GB, and though the Xbox One X and PlayStation 4 Pro come equipped with 1TB, that's still a limited amount for a growing game library.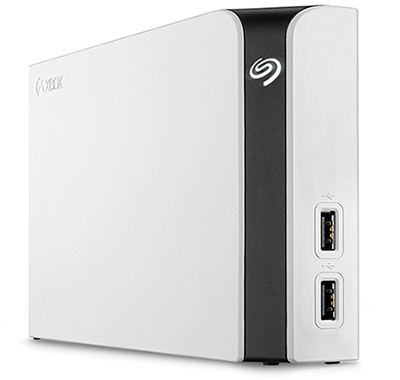 In step storage manufacturers, who are eager to position their external drives as the ideal accessory for today's game consoles. Seagate is one of the best-known names in the business, and the firm's 8TB Game Drive Hub appears to tick all the right boxes for enthusiast Xbox gamers.
Priced at £205 and introduced as an officially licensed accessory, the Game Drive Hub is styled and colour-matched to suit the Xbox One S. It looks a purpose-built counterpart and scores favourably in the aesthetics department, though do be aware that a black colour option isn't yet available, so while the drive will look the part alongside an Xbox One S, it won't be an ideal match for the upcoming Xbox One X.
Still, it's about as good-looking as an external hard drive is going to be, and Seagate hasn't skimped on specification. Under the hood of the 118mm (H) x 41mm (W) x 198mm (D) frame, there's an 8TB Seagate Barracuda Pro, whose huge capacity and 7,200rpm speed are a step-up from the basic drive included in the Xbox One S. Game load times may see a minor increase in performance, though the difference is likely to be negligible and insignificant in comparison to a high-speed SSD; the Game Drive Hub's primary purpose is to boost storage, and speed freaks should look elsewhere.
If 8TB of storage is what you're after, there are good reasons to consider the Seagate option. In addition to the tasteful exterior design, the Game Drive Hub includes a pair of front-facing USB 3.0 ports that are handy for charging your controllers or connecting other accessories. Should you already happen to be using an external drive, it's worth noting that it can be daisy-chained via a front USB port to serve as an additional storage pool, or you can simply copy all of your data across.
Straightforward installation is a prerequisite for this sort of device, and getting the Game Drive Hub up and running is a piece of cake. On the back of the unit, connect the power cable to the mains and the four-foot USB cable to a spare port on the Xbox, and you're pretty much good to go. Games and apps can be transferred from the console's built-in drive to the Game Drive Hub, should you prefer, and the latter can be set as the default destination for all future installations.
Having 8TB to play with is a real boon for gamers with large libraries, or indeed subscriptions to the likes of EA Access or Xbox Game Pass, however there is a caveat to be aware of. During use, we found the internal drive to be noisy compared to the console itself. We wouldn't go as far as to call it off-putting, but there are clear trade-offs between hard-disk and solid-state storage solutions. The latter will be faster and quieter, but the Game Drive Hub succeeds in offering far more storage for your buck.
Bottom line: want massive storage capacity for your Xbox One? The 8TB Seagate Game Drive Hub is a practical choice.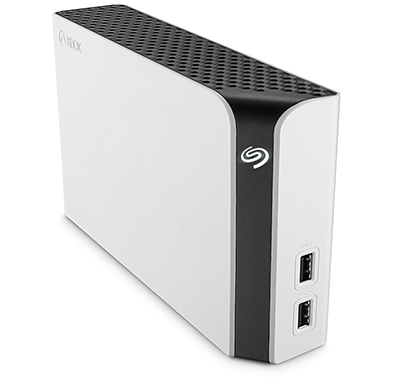 The Good

The Bad

Sits neatly alongside an Xbox One S
Adds massive storage with no fuss
Extra USB ports do come in handy
Contains 7,200rpm Barracuda Pro disk
Straightforward setup

Not as quiet nor fast as an SSD
Doesn't come in Xbox One X black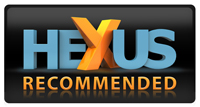 Seagate Game Drive Hub for Xbox
HEXUS.where2buy
The Seagate Game Drive Hub for Xbox is available to purchase from Amazon.
HEXUS.right2reply
At HEXUS, we invite the companies whose products we test to comment on our articles. If any company representatives for the products reviewed choose to respond, we'll publish their commentary here verbatim.