Microsoft has revealed Project Scorpio and the tech behind this next generation Xbox via EuroGamer / Digital Foundry. Contrary to the usual rate of progress in the console industry, Scorpio seems to be running ahead of schedule. Thus the next gen Xbox has been revealed early with tests showing "great results from Scorpio hardware," already. Beyond the hardware upgrades EuroGamer gushed that it saw demonstrations of "impressive software running beautifully on production silicon".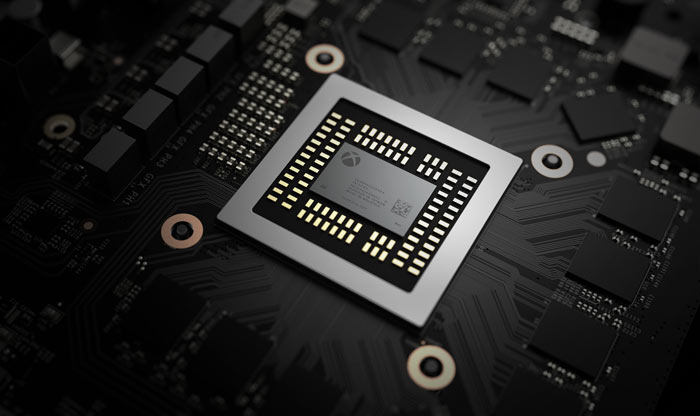 But is this progress so surprising given that the new Microsoft (and Sony) made consoles are basically PCs? Thus upgrading their core components - faster CPU, GPU, storage and RAM - delivers an impressive gain in performance with little or no compatibility issues. Probably more impressive is the underlying new AMD technology being made available in a compact consumer friendly form and delivering 4K 60fps / 6TFLOP GPU performance at a wallet friendly price. However, we don't yet know the price…

Let's cut to the chase and look at Project Scorpio hardware tabulated against the existing Xbox One and newest Sony PS4 Pro:
| | | | |
| --- | --- | --- | --- |
| | Project Scorpio | Xbox One | PS4 Pro |
| CPU | Eight custom x86 cores clocked at 2.3GHz | Eight custom Jaguar cores clocked at 1.75GHz | Eight Jaguar cores clocked at 2.1GHz |
| GPU | 40 customised compute units at 1172MHz | 12 GCN compute units at 853MHz (Xbox One S: 914MHz) | 36 improved GCN compute units at 911MHz |
| Memory | 12GB GDDR5 | 8GB DDR3/32MB ESRAM | 8GB GDDR5 |
| Memory Bandwidth | 326GB/s | DDR3: 68GB/s, ESRAM at max 204GB/s (Xbox One S: 219GB/s) | 218GB/s |
| Hard Drive | 1TB 2.5-inch | 500GB/1TB/2TB 2.5-inch | 1TB 2.5-inch |
| Optical Drive | 4K UHD Blu-ray | Blu-ray (Xbox One S: 4K UHD) | Blu-ray |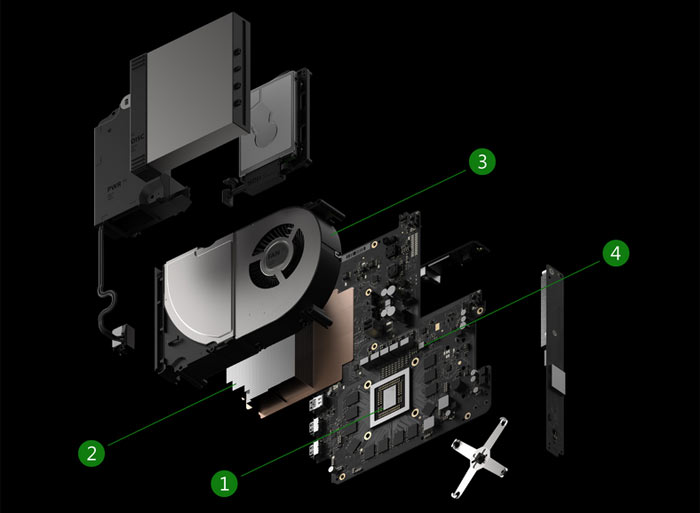 The AMD SoC at the heart of the new Xbox, measuring 360mm2 and packed with seven billion transistors, has been dubbed the 'Scorpio Engine'. You can see above that this SoC melds a fast (but not Ryzen) custom octa-core CPU and a (Polaris) GPU with more compute units and faster clocks - it basically delivers 'a bit more of everything' compared to Sony's PS4 Pro.

Microsoft's Scorpio design team was aiming to make any existing Xbox One title, that currently runs smoothly at 900p on the original console, run smoothly in 4K on the new console. From the EuroGamer report it seems like they have comfortably achieved this goal. For example, a ForzaTech developer demo with everything turned up to the max saw this game engine running at 4K 60fps with power to spare (GPU utilisation at just 60-70 per cent).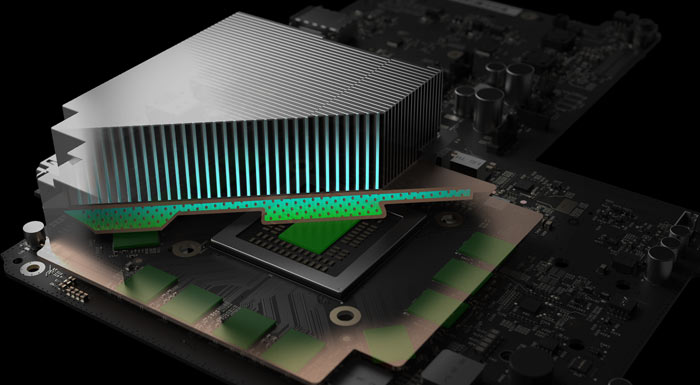 To make Scorpio consumer friendly it has to be designed into an appealing, compact form for the living room. Important to this were various technical considerations such as fine tuning and optimising the voltages the performance chips work at (the so called 'Hovis Method'). Furthermore, a vapour chamber heat sink is equipped. This cooler features a copper vessel containing ionised water. Actively cooling the heatsink assembly is a centrifugal fan. Another consumer friendly aspect of the design is that the 245W universal voltage PSU is integrated into the console.
Microsoft will be revealing Project Scorpio in full at E3 in June. You will have to wait until that time for official word on the final naming of the new console and its pricing. The new Xbox will be launched in 'Holiday 2017', which means in just enough time for the Xmas gifting rush.