Sony has confirmed that Gran Turismo 5 Prologue, a prequel title showcasing the forthcoming Gran Turismo 5 for PS3 will be available both on Blu-ray disc and as a download from the Playstation Network at the end of this year.

Gran Turismo 5 Prologue will features over 40 cars – including vehicles by Lotus, Mitsubishi, Nissan and Ferrari for you to race on real-life tracks: including the Eiger Nordwand, the London City Track and Suzuka – all rendered in incredible High Definition graphics. There's also all-new driving physics and new, improved opponent artificial intelligence for the toughest race challenge yet.

For the first time ever in the history of Gran Turismo, you'll now be able to race online. Up to 16 players will be able to go head-to-head on some of the world's best racetracks. Once you're up and revving, Global Online Rankings and the My Garage homepage feature will leave the world in no doubt as to just who is the best at Gran Turismo.

The Online Dealership will provide a wealth of information on cars and manufacturers and also Gran Turismo TV – a dedicated online channel available exclusively from PSN and packed with some of the greatest content that Motorsport, car manufacturers and TV has to offer.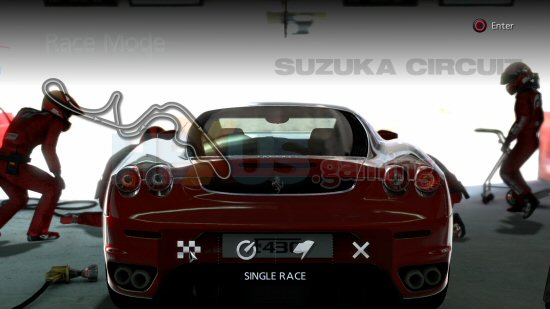 Click for larger image



Gran Turismo 5 – the full title – launches in 2008.