According to video card leaksters over at VideoCardz, Nvidia is preparing to launch a new gaming bundle to entice you to buy its top of the range consumer GPUs. Meanwhile an AMD promotion to help shift more top of the range Polaris graphics cards is underway in Europe.
Nvidia Watch Dogs 2 bundle
VideoCardz has a pretty good track record with these bundle leaks. Furthermore, it has reproduced the genuine looking Nvidia / Ubisoft promotion artwork which you can see below. Backing up its assertions with some kind of logic, the graphics card-centric website notes that two years ago the original Watch Dogs game was bundled with green team GPUs including the mid-market 760/660 series.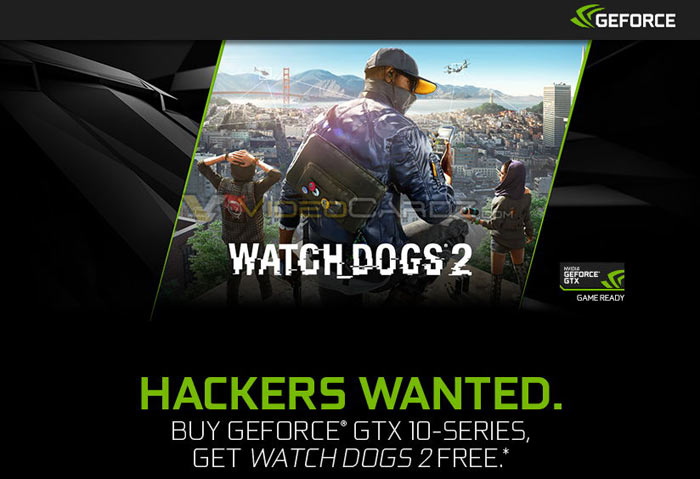 This time around Nvidia is providing free game codes to purchasers of GeForce GTX 1080 and GTX 1070 graphics cards, plus laptops or desktops with those GPUs pre-installed. There are likely other conditions, such as buying the hardware via an approved dealer, and that there are only a limited number of free game codes available over a limited period.
Watch Dogs 2 is released on PC on 29th November. The Nvidia promotion is likely to begin shortly says the source.
AMD Radeon RX480 Civilization 6 bundle
This bundle was previously tipped by VideoCardz, which claims the it has already gone live. Looking around the web I couldn't find an official AMD or Radeon.com hosted promotion page this morning but noticed the bundle being headlined by Swedish tech retailer Inet.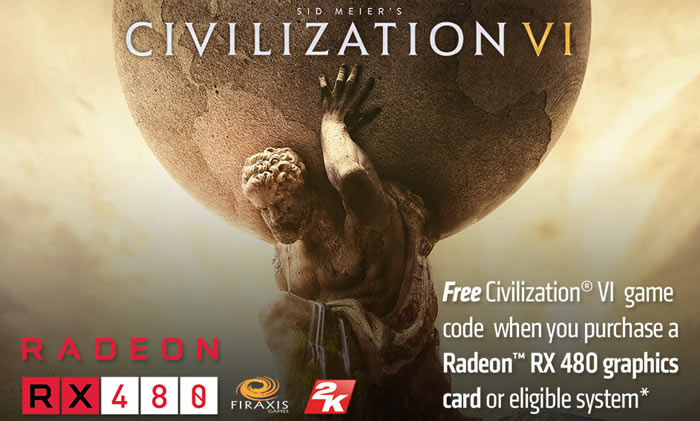 There isn't a lot of detail to pick through with AMD's offer. You buy a Radeon RX 480, or system thus equipped, and you will get a free Civilization 6 game code. There are likely the same kinds of T&Cs as usual; regarding the timed length of the promotion, the limited number of game codes, and the requirement that you buy from certain dealers.
UPDATE: AMD Civ 6 offer listed (with PDF T&Cs link) at bottom of bullet point list on AMDrewards.com.
Keep an eye on the HEXUS PR section for these deals going live in the UK / worldwide. I'll note in the comments when the official notices come through.