Space combat PC game Everspace is doing pretty good on Kickstarter right now. It's got €160,000 of backing, with a €225,000 goal and 24 days to go. It is also a Stream Greenlight game. To keep interest in the game and its development an uncut 10-minutes of space dogfighting footage from the 'pre-alpha' game was published this weekend. The developers, ROCKFISH Games, previously published the Galaxy on Fire series of games.
Everspace is described by the developers as "a single-player 3D space shooter with rogue-like elements and non-linear storytelling". The game has been created using the Unreal Engine 4 graphics engine and, when finished, will offer 'VR support'. Everspace isn't like a lot of the new wave of space games that we are seeing at this time. It is designed to provide easy-to-pick-up gameplay with AAA-quality graphics and sound. A single player "captivating, non-linear story," is at the heart of this accessible action-focussed game, where you journey though "an ever-changing, yet beautifully crafted universe full of surprises".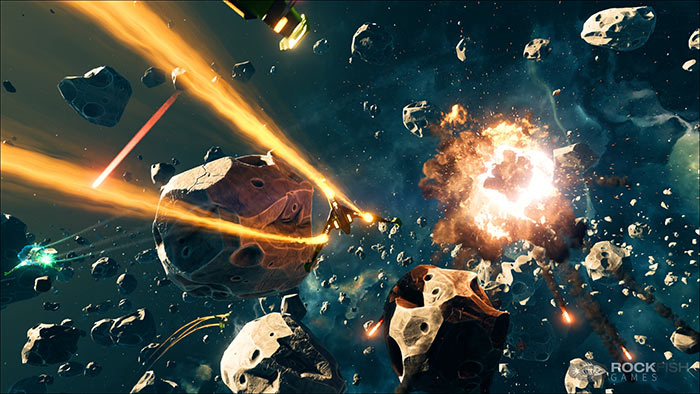 To bring further variation to your gaming ROCKFISH says that on your way to any destination "it is very unlikely that you will encounter the same setting twice". Add to this the varying tactics that you can employ to progress past obstacles and challenges, resource gathering, and exploration - it sounds like a lot of fun. The developers promise that "the mix of persistent progression (blueprints and personal wealth) and temporary progression (crafting and equipping your ship during a run) combined with an ever-changing universe and a rewarding story will make you want to start over again and again to eventually reach your final destination."
Interestingly the ROCKFISH team started on mobile but now claims that "mobile is our past - PC and console are our future". As a Kickstarter project there are some 'stretch goals' for Everspace. These include; Mac OS X and Linux support at €275K+, full gamepad and HOTAS support at €550K+ and a PS4 and Xbox One version at €725+. The minimum funding pledge to secure a DRM-free copy of the game, via Steam, is €20. It is estimated that Everspace will be finished and ready for general release in October next year.