As part of Game Informer's December cover story, Avalanche Studios has formally revealed that a new iteration of its open-world action series, Just Cause 3, will be coming to PS4, Xbox One and PC in 2015.
The Swedish developers have taken quite some time to announce Just Cause 3 - the last of the series, Just Cause 2, was released over four years ago, back in 2010. However, there has previously been evidence that the game was in the works. An Avalanche developer previously dropped hints tipping off a "new instalment in a very well-known game series" on his LinkedIn profile in April this year, and the studio was also found teasing the game on Twitter as early as last year.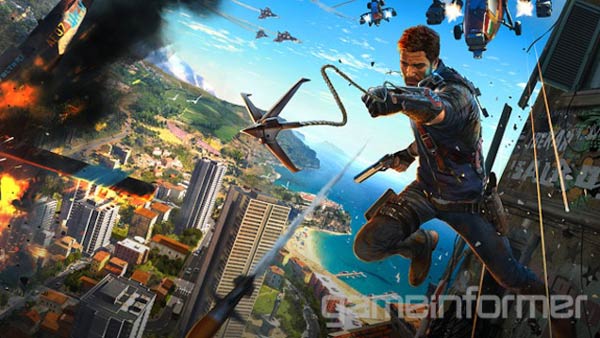 Besides the inclusion of the same strong focus on crazy physics and chaos seen in previous iterations, the new game will be set in a fictional Mediterranean archipelago, featuring "vastly improved parachute and grapple mechanics," as well as a brand new wingsuit, according to the editors who got a chance to be the first people outside of the studio to have a go on the game. Sadly that's all that has been revealed so far about Just Cause 3, but we're sure that more teasers and details about the game will be released closer to its launch.
Microtransactions no, DLC yes
Amid early leaked screenshots and rumours, Avalanche boss Christofer Sundberg also clarified in a blog post that the upcoming game will not include any microtransactions, but is likely to follow its launch with DLC packs. "Rest assured it will be a huge, fully packed and extremely rewarding experience right out of the gate," he added.
We have included Game Informer's coverage trailer below which gives you a glimpse of what's to come. Those who have missed the previous game can purchase it on Steam right now for £1.99, as part of a 'Midweek Madness' sale, until 10am PST Friday.