Codemasters has announced a new game which looks set to be the spiritual successor to the Micros Machines series. Toybox Turbos lets you race around that iconic blue chequered tablecloth covered breakfast table in tiny toy cars once more. As with the original game there are plenty of jumps, obstacles and shortcuts made up of various household sundries, as well as a fun multiplayer competitive game to enjoy. Of course the game has been updated with smoothly rendered 3D graphics, but it shares a similar traditional top down racing view to enjoy.
The game is an admitted retro-gaming homage; "Here we go then – it's time for a slice of retro Codies arcade racing like out of the nineties with our new game Toybox Turbos!" proclaims the Codemasters blog. "Bursting with multiplayer fun to share with your friends and family, Toybox Turbos takes you to kitchen tables, pool halls and science labs in this manic, miniaturised table top racer!"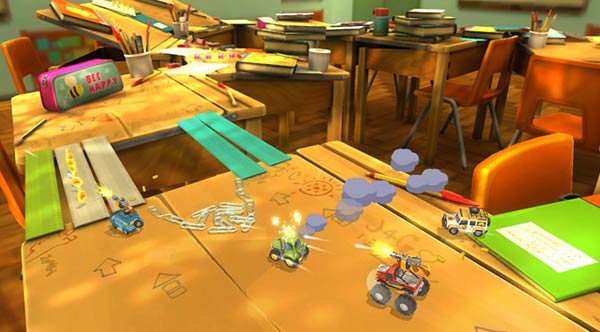 The single player game contains six modes and 'boss battles' but the best fun in the old game was from multiplayer, where your friends become foes and you can race in four-player matches. Now with the wonders of the modern world your fellow racers don't have to be sharing your sofa but can be on the internet.
The main features of the new game are, according to the above video captions:
18 tabletop tracks
Multiplayer mayhem
35 collectable vehicles
Crazy powerups
I really used to enjoy Micro Machines on the Sega Megadrive. I hope the new game will replicate that part of the race around the bathroom where you and the other racers hop onto a sponge which slowly crosses the bath while you try and shunt each other into the depths…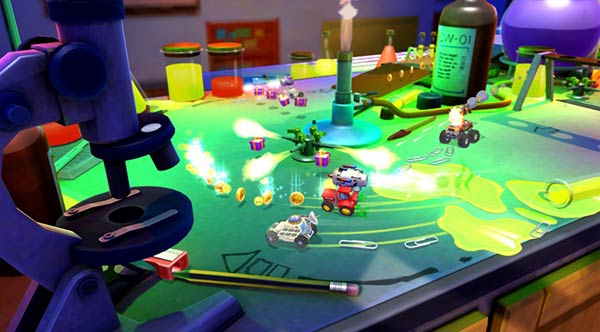 Toybox Turbos will arrive on Steam for PCs in November. CVG says that the date will be 11th November and the price will be £11.99. Xbox 360 and PS3 players will also get the game, via digital download, "soon".