To coincide with the launch of the AMD Radeon R9 285 graphics cards AMD will augment the Never Settle choices and re-name the bundle as the 'Never Settle Space Edition'. With the newly announced additional quartet of space games AMD graphics card purchasers will have a choice of 31 games to pick though, depending upon what GPUs they buy.
The AMD Never Settle Space Edition includes Alien: Isolation, Star Citizen, Space Run and Habitat. As usual the availability and number of games you can choose varies dependent upon what Radeon card you fork out your hard earned cash upon.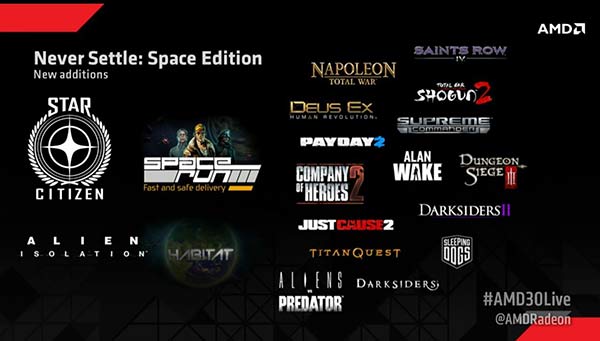 AMD wrote to HEXUS on Saturday detailing how it is working with Creative Assembly in creating the "ultimate" Alien: Isolation experience. We were told that the new Alien title is part of the AMD Gaming Evolved program and support "AMD Eyefinity technology, 4K UltraHD, AMD CrossFire multi-GPU technology, and a wide range of DirectX 11 effects tuned for the Graphics Core Next architecture in recent AMD Radeon GPUs and AMD Accelerated Processing Units". We have reported previously on the progress of the Alien Isolation game, it "plunges players into a haunting, terrifying atmosphere," where they must scavenge resources and improvise solutions to stay alive.
AMD's work with Creative Assembly has helped the development team construct the visual experience that "plays such a fundamental role in the 'feel' of the game". Special effects employed include contact-hardening shadows, compute-based particles, HDAO and DirectX 11 tessellation.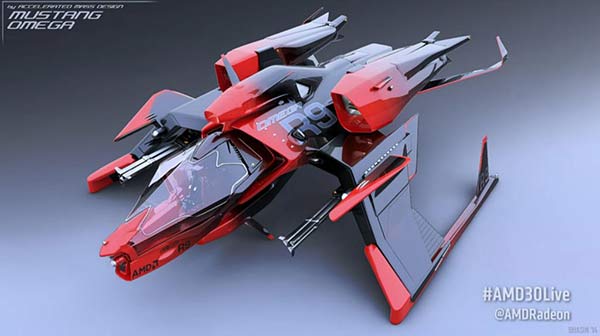 Looking at the other games in the bundle, Star Citizen has earned several headlines thanks to its record breaking fundraising and PC gamer enthusiasm for this Chris Roberts project. However in the AMD Never Settle Space Edition some small print suggests that the Star Citizen part of the bundle will not be a full copy of the game but an exclusive 'Mustang Omega Racer AMD edition' and perhaps the Arena Commander and Murray Cup Race Series modules. Hopefully this game or game-addon confusion will be cleared up soon.
If you have saved up some Never Settle voucher/coupons from a previous AMD GPU buy then perhaps one of the Space Edition quartet will inspire you to cash it in. Alien Isolation is scheduled for a 7th October release and the finished Star Citizen's official launch is planned for 2015.