Hotly anticipated science fiction game 'No Man's Sky' will also be launched on PC. The game was first announced at the VGX Awards last December and was one of the most popular video trailers. It also wowed the crowds at E3 in June as part of the Sony Press Conference presentation.
No Man's Sky is a "science-fiction game about exploration and survival in an infinite procedurally generated universe". At the recent E3 expo a new trailer (below) was released. You can see the real-time gameplay video footage which starts with a star fighter pilot on the ground exploring and discovering resources and species. Then, perhaps sensing some danger from the huge dinosaur type creatures romping around, the pilot jumps into his ship and blasts out of the atmosphere into space. There is also lots to see and experience in space before you get to another bustling planet. The developers proudly inform us that everything is procedurally generated and unique.
It turns out that No Man's Sky will be a 'timed exclusive' for the PlayStation 4. We don't know how long after PS4 release it will come to PC but at least we know it will be on its way. IGN discussed the game with Sean Murray of Hello Games. "We've always had PC in mind but in my head (console-y) means solid framerate and immediate controls. I think a PC game can be 'console-y' and it's intended as a compliment, but I get in trouble for saying it," said Murray. He went on to explain how developing first for the PS4 allowed the programming team to tune the procedural algorithm to the limit -against the constant hardware spec of the Sony console.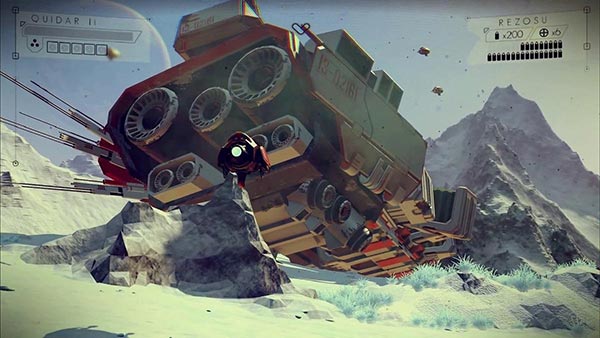 PC owners should be in for a treat as extra hardware capabilities will have a "real effect on what we can actually do in the universe," explained Murray. He promised extra richness within the game rather than just a "veneer of resolution, or extra antialiasing options".
No Man's Sky is being made by Hello Games and, as yet, has no confirmed release date on any platform.