A Kickstarter campaign for an interesting new PC/Mac/Linux game has been launched. The game, called Superhot, uses a unique mechanic where time moves only when the player chooses to move "making each level a deadly puzzle".
In Superhot a single bullet will kill you.
Superhot which was born of the 7DFPS (7 Day First Person Shooter ) Game Jam coding challenge event in August last year. It was a real stand-out entry in that competition as it "felt dynamic and satisfying, while not requiring superhuman reflexes" to play. Superhot team likens its game to "Something like a game of real-time chess, except that all the pawns are out there to murder you".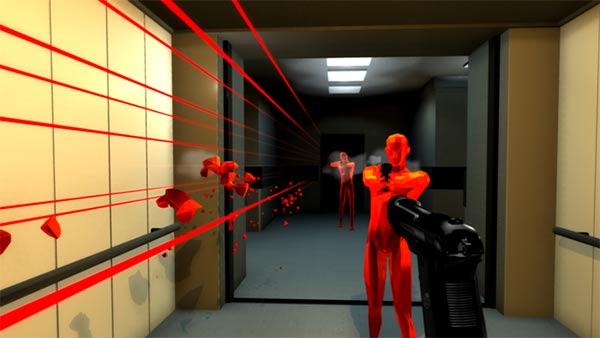 A great thing about this Kickstarter campaign is that there is a playable demo of the game available, from the 7DFPS event, so you can get a good feel of the game mechanics and basically if you enjoy the playing style or not. Interested readers can play the game via the Unity Web Player plugin powered site here. The game loads very quickly and I enjoyed my brief red person shooting session.
Rewritten from the ground up
The Poland based development team say that the game has been completely rewritten since last year to provide a more expandable, dynamic and smooth experience. When I played the demos I thought I would like keys other than WASD to do a bit of bullet dodging… Also thoughts about gameplay have lead to puzzles where players 'solve' shootout situations in various locations. The team says Kickstarter will provide them with a "constant stream of feedback and ideas, while maintaining control over the development." The initial goal will make sure the costs involved in making the game are met.
The game has already been through Steam Greenlight and achieved an Honourable Mention for the Nuovo Award in IGF 2014, reports Joystiq. As I write the Superhot Kickstarter campaign is teetering at the gates of its $100,000 goal having raised $99,700 in a number of hours – with 30 days of campaign time left. If you back the project to the tune of $14 you can secure a full copy of the game. It is estimated to be available in June 2015.