Irrational Games has announced that popular PC game BioShock Infinite is to receive a new DLC pack on 12th November. It will be called Burial at Sea - Episode One. The downloadable game expansion will also be made available, on the same date, for Xbox 360 and PlayStation 3 games consoles.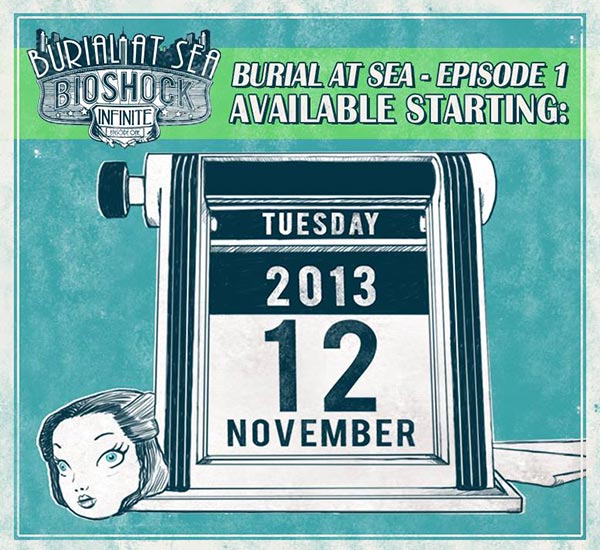 BioShock Infinite got its first DLC at the end of July but that expansion was basically an arena battle mode for the game which took place over four new maps; The Raven's Dome, The Ops Zeal, Duke, Dimwit Theatre and Emporia Arcade. BioShock Infinite: Clash in the Clouds allowed players to earn blue ribbons by winning battles winning battles using pre-set weapons or attacks. Also trophies, achievement unlocks and leaderboards spurred gamers on.
Burial at Sea - Episode One is a story based DLC pack. It is the first in what will be a two part expansion, the second part, Burial at Sea - Episode Two, is currently still in development at Irrational Games. The impending Episode One takes place in Rapture, the setting of the original BioShock games, before it fell to pieces, when it was "a shining jewel at the bottom of the ocean." We are also told that the graphics are built from scratch for the BioShock Infinite engine to create a gloriously rendered environment.

The new gameplay on offer in the DLC is said to merge the best BioShock and BioShock Infinite. You will have access to new weapons, new Plasmids/Vigors, Tears, Sky-Lines, and Big Daddies. Gameplay mechanics also are said to have been shifted more towards stealth and resource management.
BioShock Infinite: Clash in the Clouds, Burial at Sea - Episode One and Burial at Sea - Episode Two are all included in the BioShock Infinite Season Pass which costs $19.99 (£15.99). Alternatively the BioShock Infinite: Burial at Sea – Episode One DLC pack on its own will cost $14.99. (£9.99 or 1200 MS Points)