A new report from the folks over at Fudzilla says that AMD spent "between $5 and $8 million to secure the Battlefield 4 deal". The AMD and EA/DICE agreement has several parts including; the exclusive bundling of Battlefield 4 with AMD hardware and an agreement that all game showcases are to be done on AMD hardware.
"Multiple sources" informed Fudzilla of the arrangements and of the huge sum of money exchanged between AMD and EA/DICE. Another potentially important part of the deal is that EA/DICE are going to issue an update for Battlefield 4 with AMD's Mantle technology implemented in December.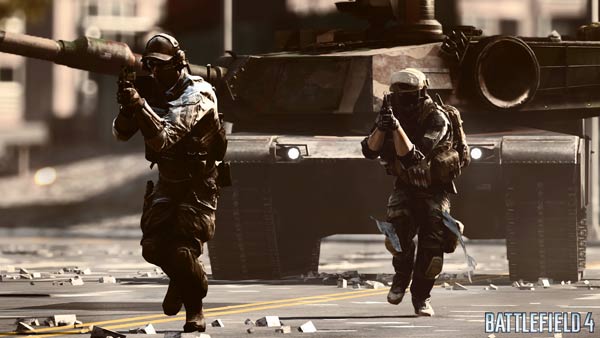 We heard about Mantle during the Radeon R9 and R7 series graphics cards unveiling in Hawaii last week. The Mantle toolset will allow developers to write code which can "speak the native language of the Graphics Core Next architecture, presenting a deeper level of hardware optimization no other graphics card manufacturer can match". Mantle is also good for developers hoping to get the most out of AMD chip powered next generation consoles, so there are benefits to both parties and to many PC and console owners. Battlefield 4 will launch on the PC platform on 1st November.
AMD Radeon R9 290X set for mid-October launch?
Pre-orders for the AMD Radeon R9 290X start on 3rd October. There is a special Battlefield 4 edition of the graphics card being made available, as seen below.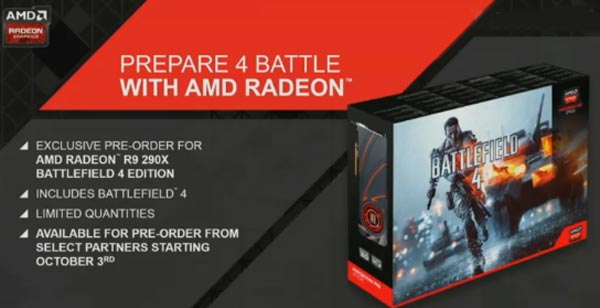 A recent report hints that the AMD Radeon R9 290X will be available in a fortnight's time, from 15th October. This rumour stems from certain presentation slides, seen at a Turkish AMD press event, bearing an NDA expiration date of 15th October - suggesting the new graphics cards will be released on that date, when all the reviews will get published.